Introduction
Hoho! Christmas is coming! It is the perfect time to gift someone a beautiful set of coffee mugs. So, they enjoy this cool and cozy atmosphere.
Where do we find an ideal cup for a gift? Don't be frustrated, Home Knows do this task for you. Here, we hand-pick the Best 40 Christmas Coffee Mugs, only for you!
December's last two weeks are for get-togethers and spreading your festive vibes! So give your loved ones a personalized holiday mug or funny mug.
Why Do We Need To Give Coffee Mugs As A Christmas Gift?
A warm mug filled with your favorite drink is no less than a blessing to make your festive evenings more special with your partner. Just imagine how beautiful it is to sip your favorite beverage while celebrating Xmas, watching the mesmerizing snowfall of December, and the long conversations.
Did you imagine? See how wonderful it feels!
If you are feeling good, just imagine what others will feel. Definitely, they will feel the warmth of your love.
Gifting a coffee mug will be a smarter decision, as it is a daily-use item in the household.
Whether it's coffee, juices, hot toddies, hot chocolates, mulled wines, or any other beverage, making a coffee mug a perfect gift material.
The Best 40 Christmas Or Holiday Coffee Mugs
So, here's a wide variety of coffee mugs you would love to go through. You can either give it to yourself or the people you want.
1. Santa Christmas Coffee Mug By Transpac Imports, Inc.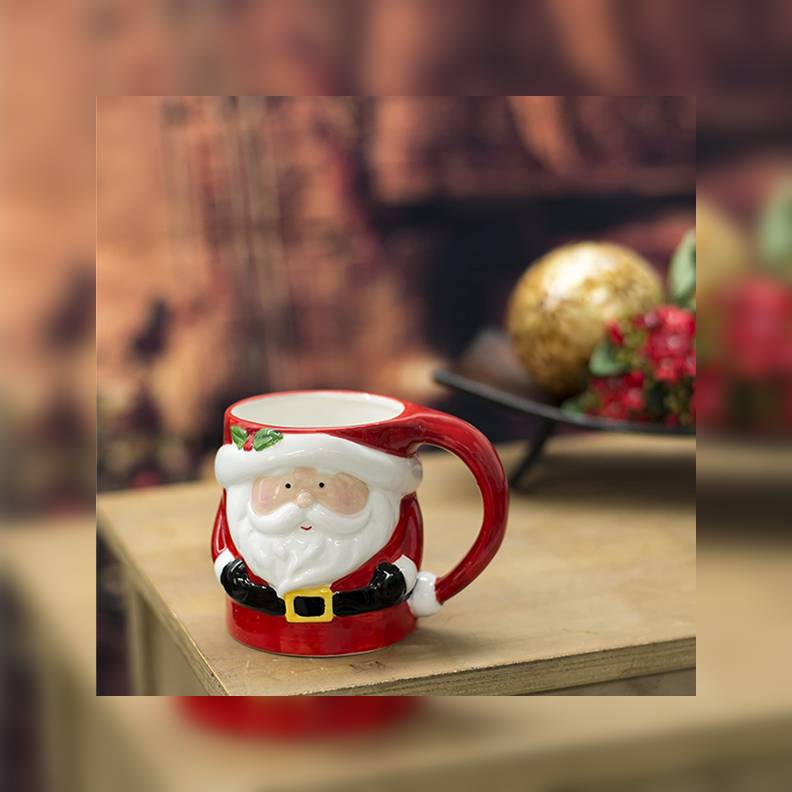 This christmas mug comes in various designs and colors. Personally, I like this cute Santa face design. Because it matches the vibes.
2. Hand Painted Ceramic Gnome Mug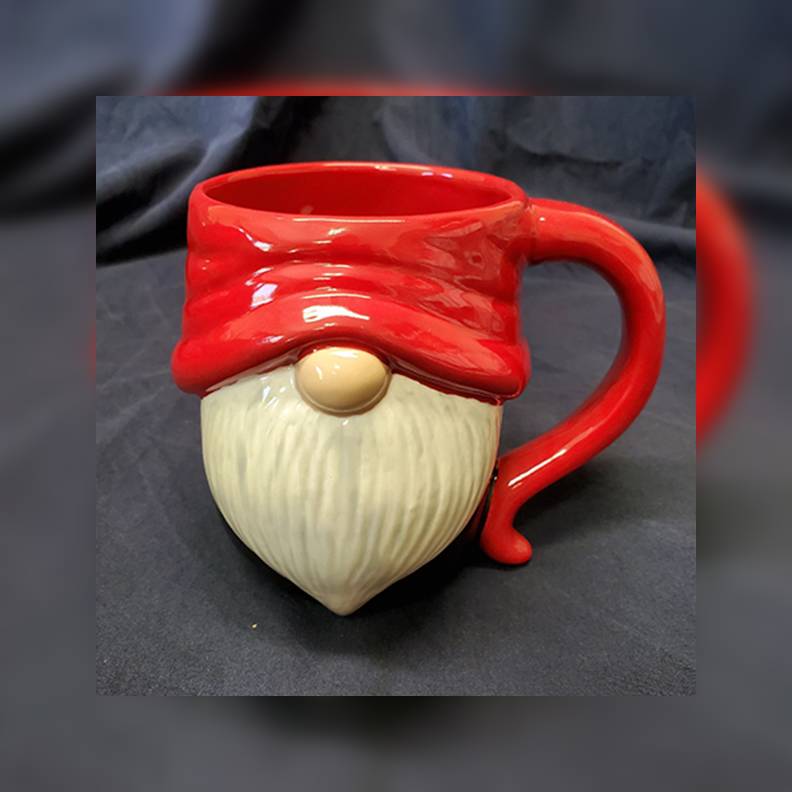 Gift this personalized Christmas mug to someone special or treat yourself. This mug's capacity is 16oz and comes with 6 vibrant colors.
3. Gute's Christmas Tree Santa Snow Globe Mug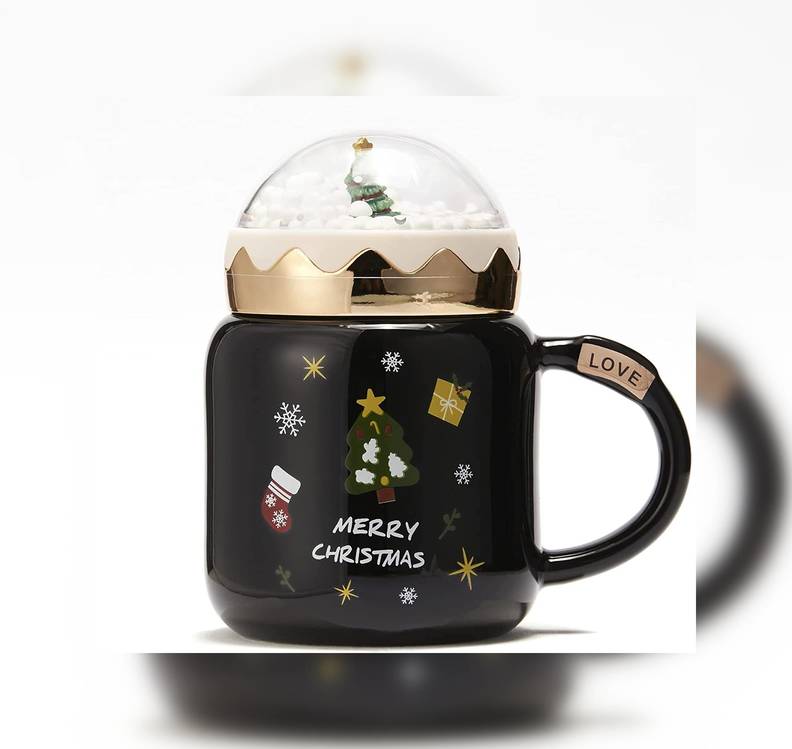 This fall season, get a cozy coffee or hot chocolate sip with this snow globe Xmas mug.
4. BLUEPOLAR Cute Christmas Coffee Mug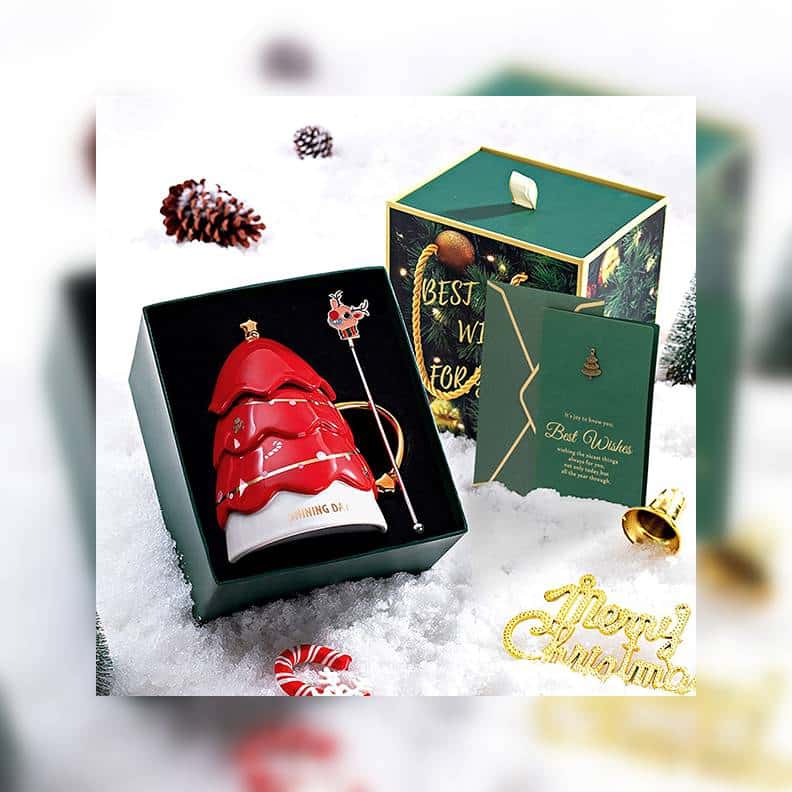 Looking for Xmas tree shaped mug? Try this stylish mug with a 16 oz capacity and a shining golden handle. This holiday mug is available in different colors.
5. Binoster's Christmas Coffee Mug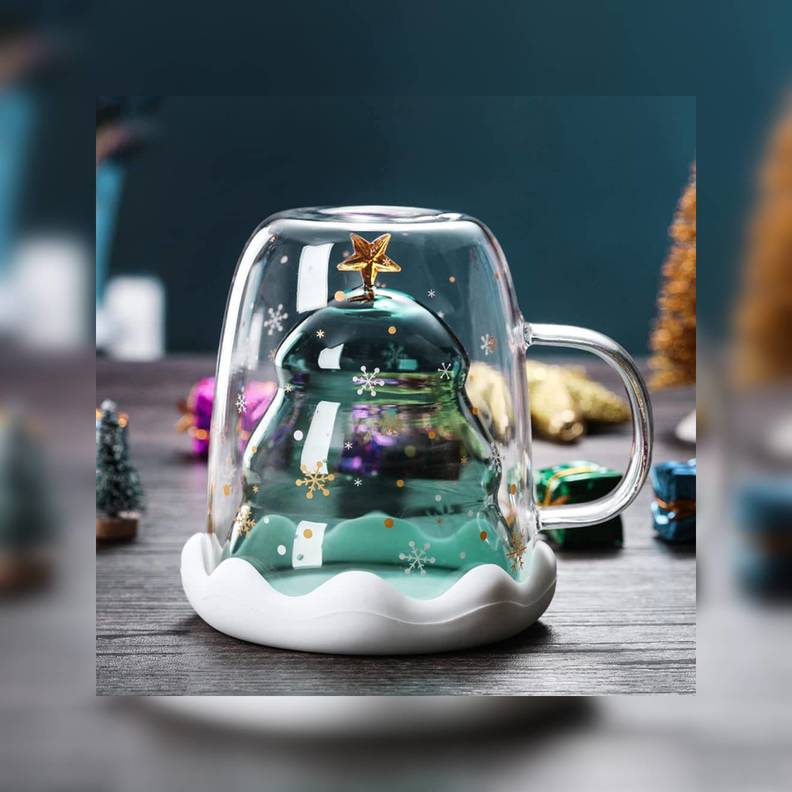 Do you like hot chocolate with marshmallows? Then feel free to drink this drink in this glass holiday mug which comes with a golden spoon.
6. Polar Bear Christmas Mugs By K.E.J.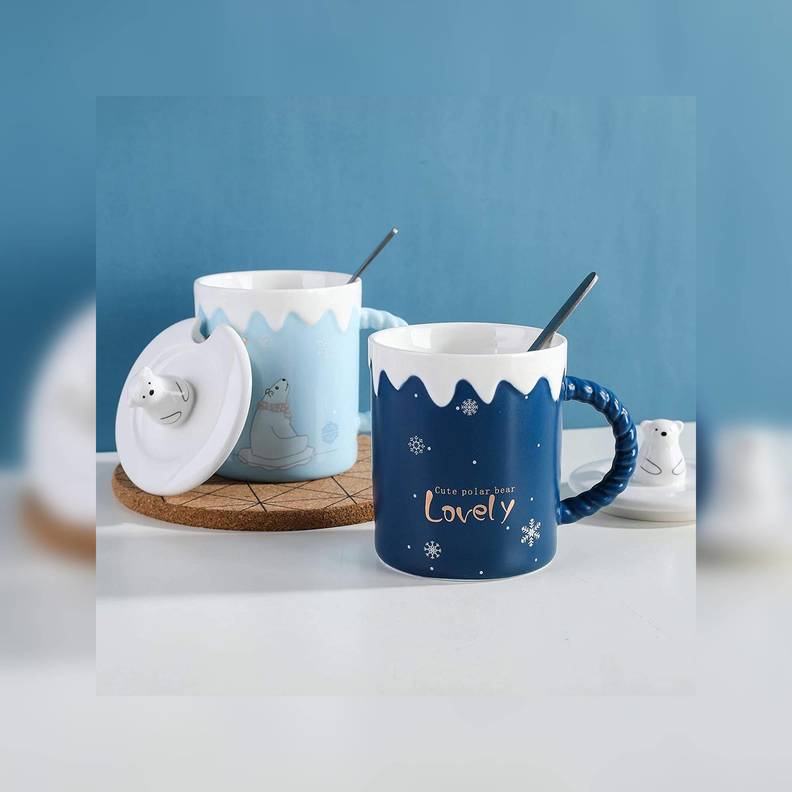 Check out this stunning large blue Xmas mug with a cute bear! This is an ideal gift for your loved ones. This mug is available in 3 different designs.
7. WAVEYU's Christmas Coffee Mug with Golden Handle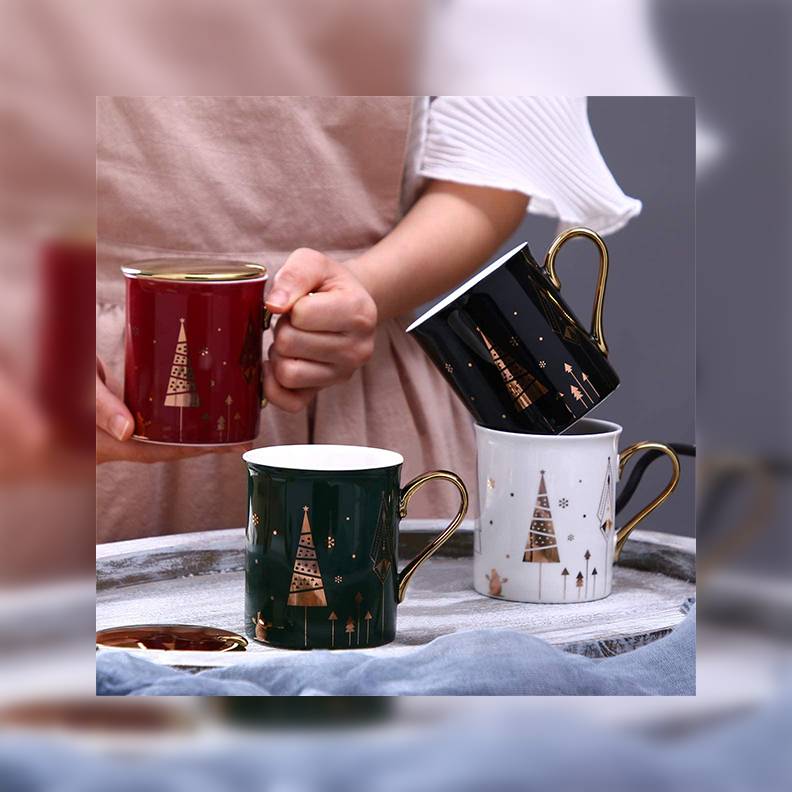 With the fantastic golden handle, glass made, and Xmas tree print, this classic Christmas mug is elegant for gifting your friends. These christmas coffee mugs are available in 4 colors red, black, blue, and white.
8. GUTE's Funny Elf Christmas Coffee Mug Set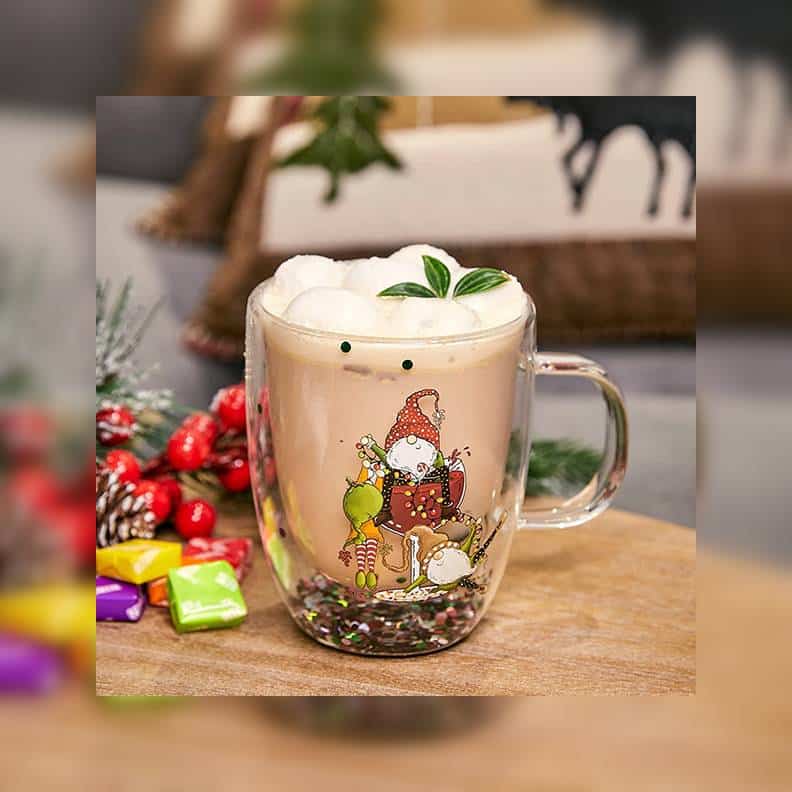 This glass holiday mug is an excellent choice for gifting someone because of its appealing design. This set of 2 mugs is glass made and is double wall insulated.
9. Fa La La La Christmas Coffee Mug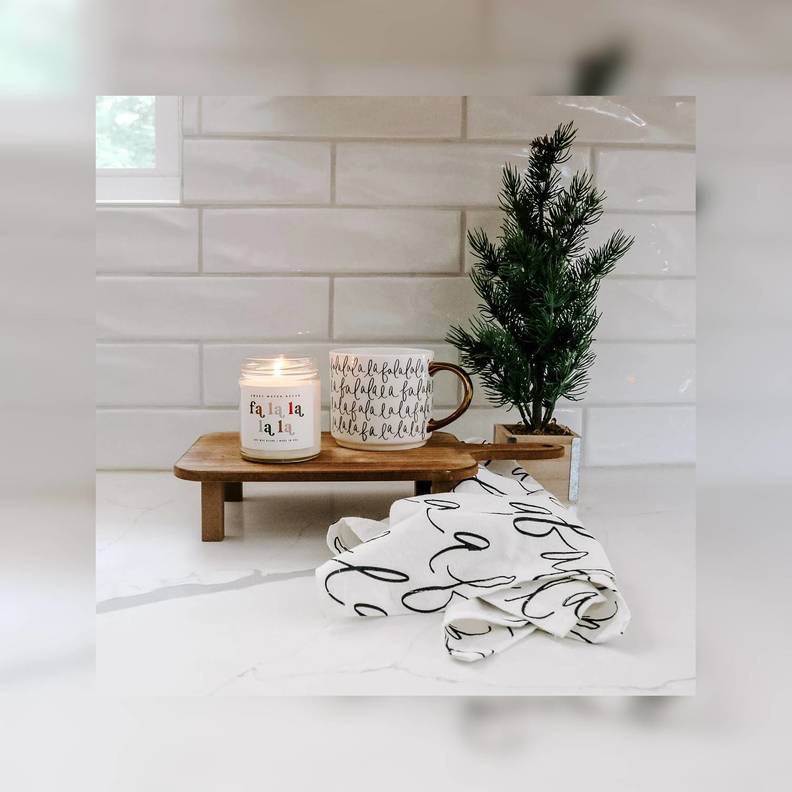 Give yourself this mug which is made from fine bone china, has a golden handle, and has outstanding finishing to awaken you from a sleepy night.
10. MyContainersStore's Ceramic Christmas Mug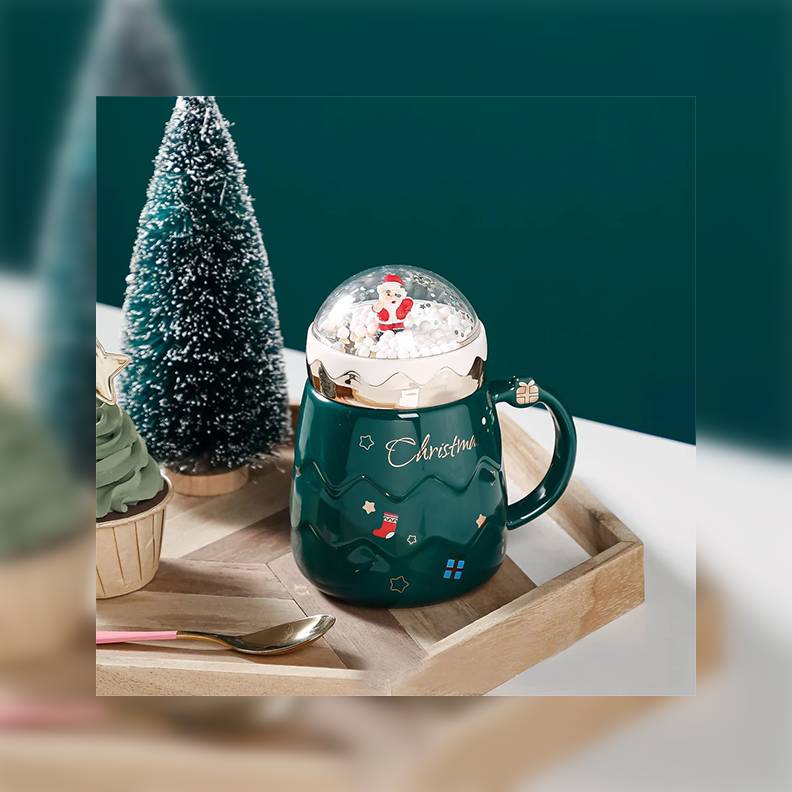 Are you looking for a stylish holiday mug for this Winter? Then consider this mug. It is available in different colors and designs and is made from ceramic.
11. Elanze Designs Ceramic Christmas Themed Coffee Mugs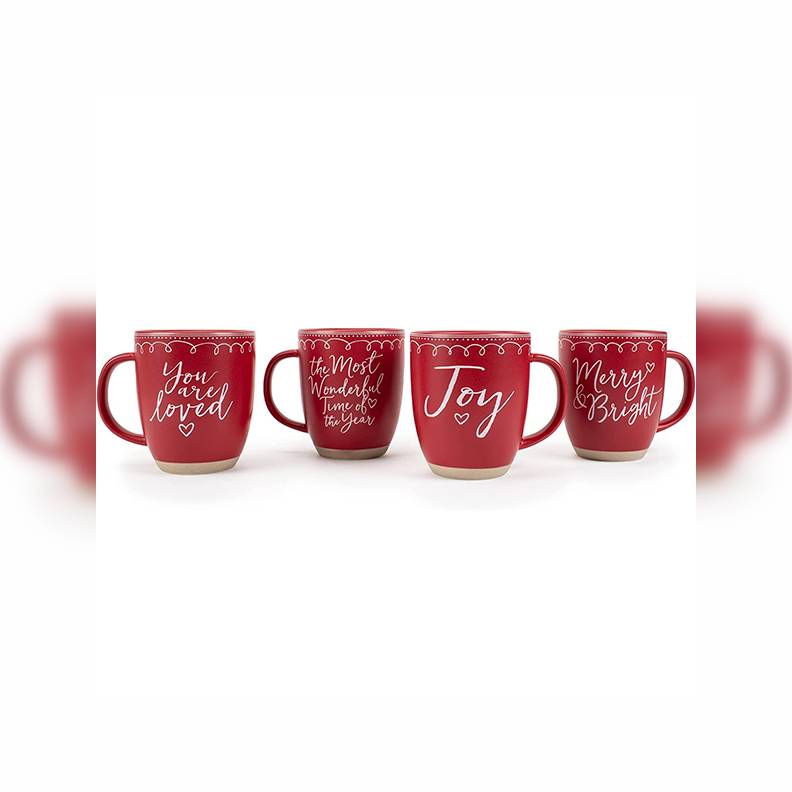 This decorative dotted line, red background, and "JOY" text mug is an excellent choice for several individuals. This mug is available in various colors and designs.
12. Personalized Christmas Mug By LuckyPanda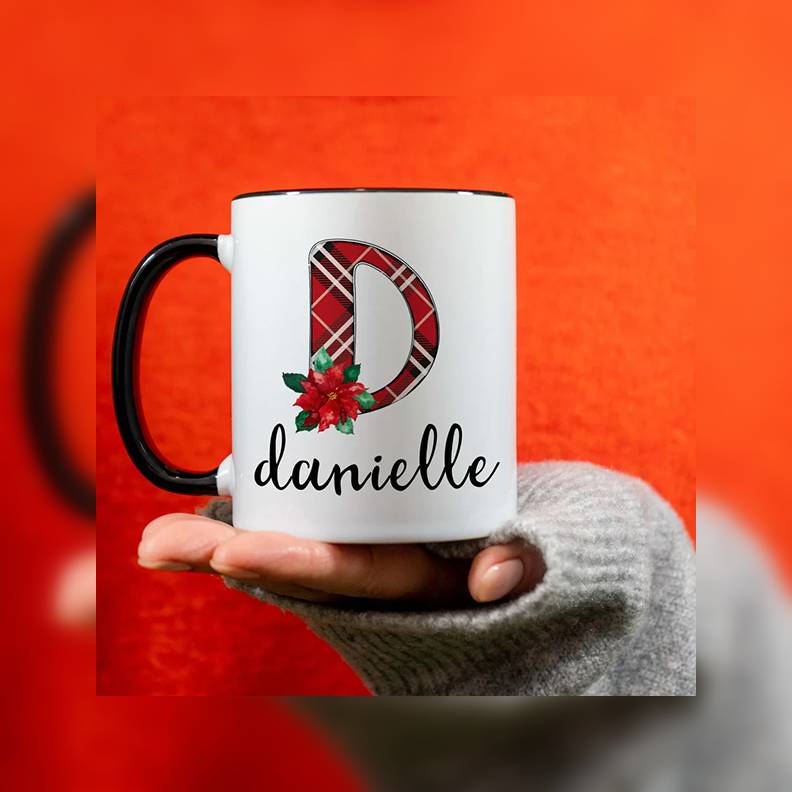 This adorable personalized mug is highly customizable, handcrafted, and has a great option to start your coffee dates on Christmas.
13. "Tis The Season" Christmas Coffee Mug By Let It Be Yours Co.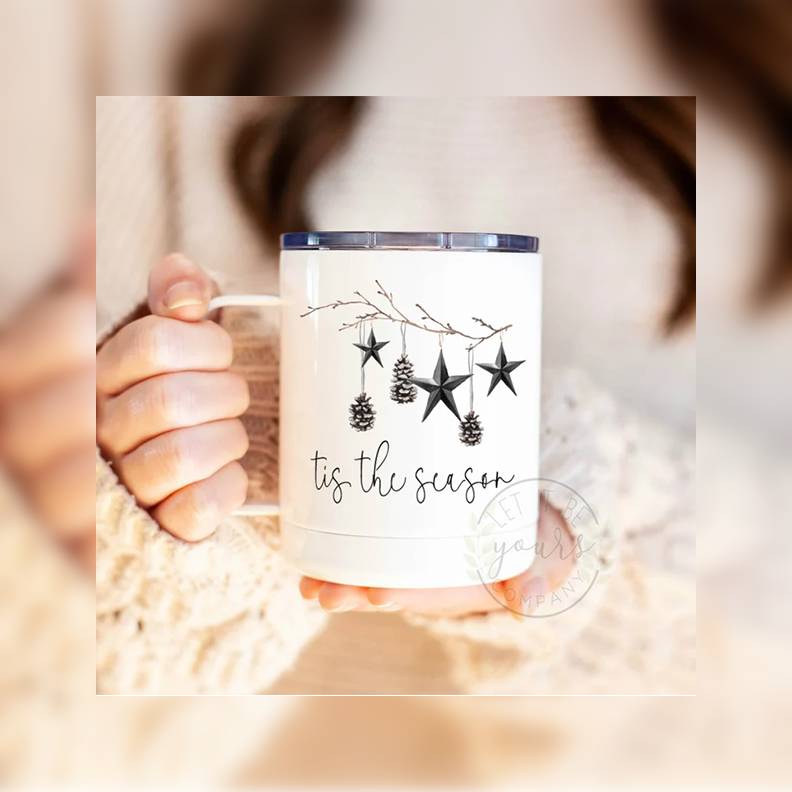 This season, treat yourself warmly with this oversized mug decorated with stars and a black coating on the front. This mug is available in different designs.
14. Personalized Christmas Coffee Mug By EndlessCreationsCo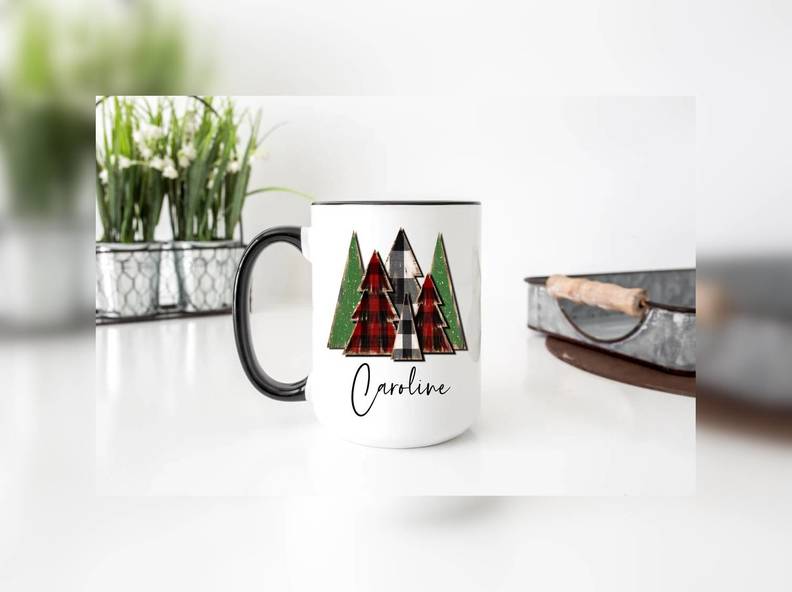 This cute "Christmas Tree" printed ceramic mug comes with stunning black handles. That's why it is a great option to gift your loved ones.
15. Christmas / Holiday / Gold Coffee Mug By Sweet Water Decor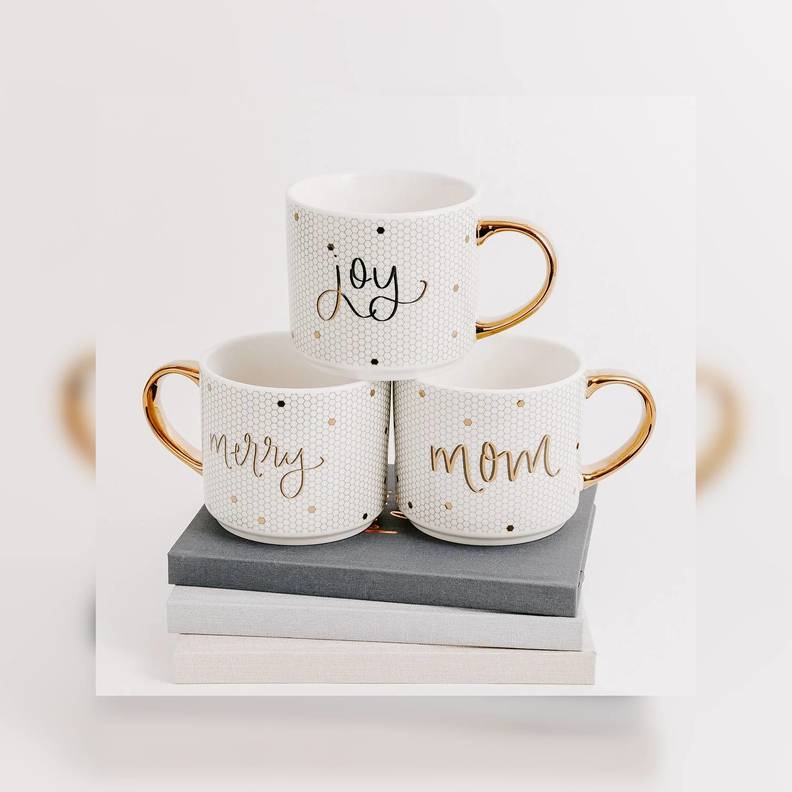 Serve any drink with this beautiful mug to your friend circle. This mug is made from fine Chinese bone and has a gold finishing handle.
16. Nostalgic Christmas Tree Mug with Tree Topper Lid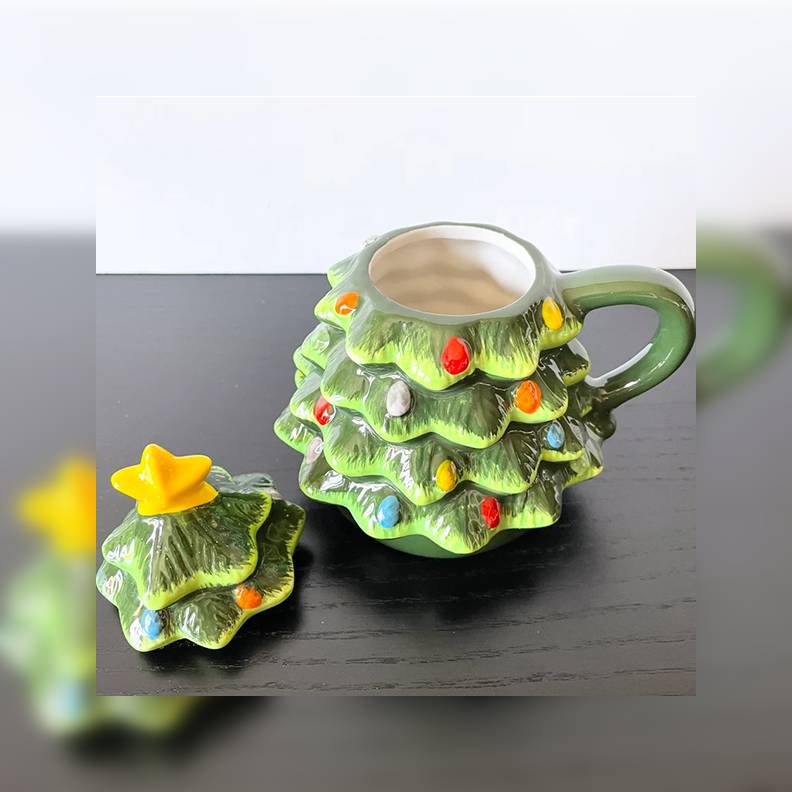 Undoubtedly, this christmas coffee mug looks like a X-mas tree, and the lid with a big star gives it a completely festive feel. This ceramic mug Holds 16 oz drinks and it is dishwasher & microwave Safe.
17. Topadorn's Ceramic Coffee Mug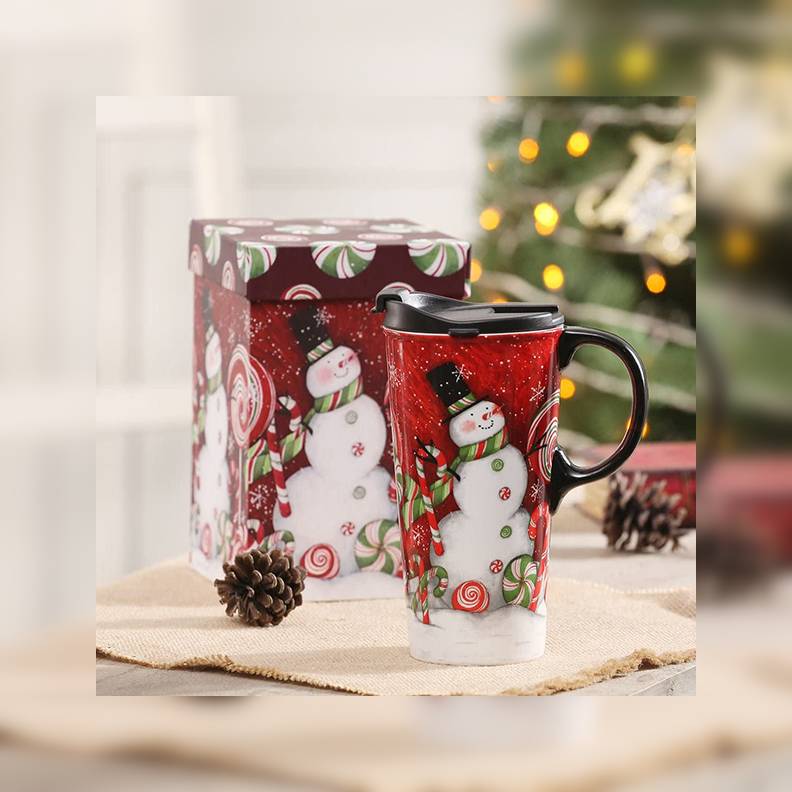 This modern-style big cup comes with 17 fluid ounces capacity suitable for gifts, decorations, and long coffee walks with partners. This mug comes with a ready-made gift box. So don't need to purchase a separate box.
18. Set of 4 Holiday Decor Christmas Coffee Mugs By Godinger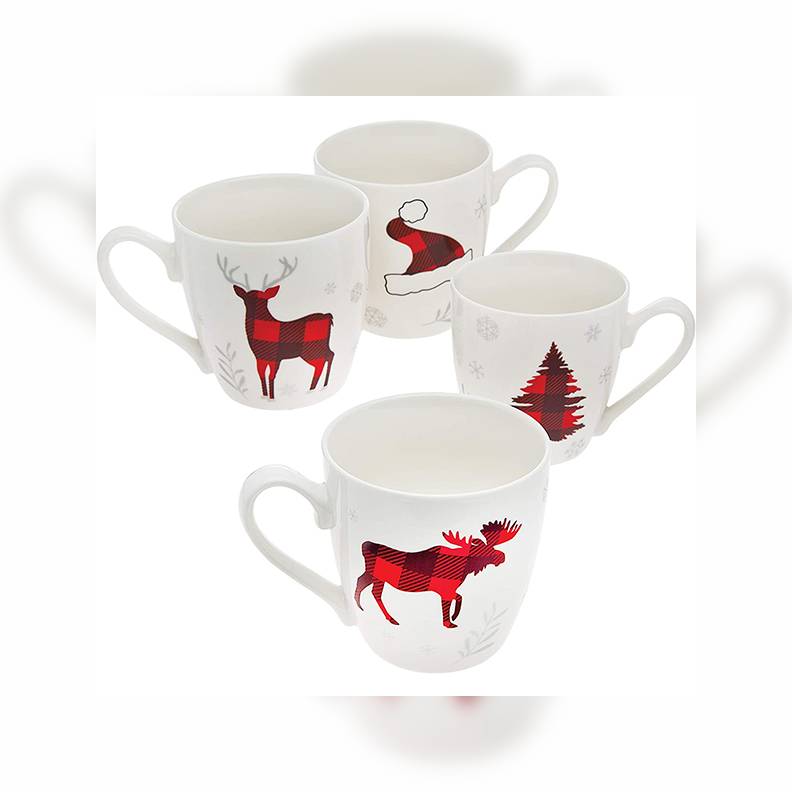 This cup has a red-colored design. This mug comes in a set of 4. This cup is the perfect choice to give your children this Xmas.
19. Classic Red Christmas Coffee Mug From YHRJWN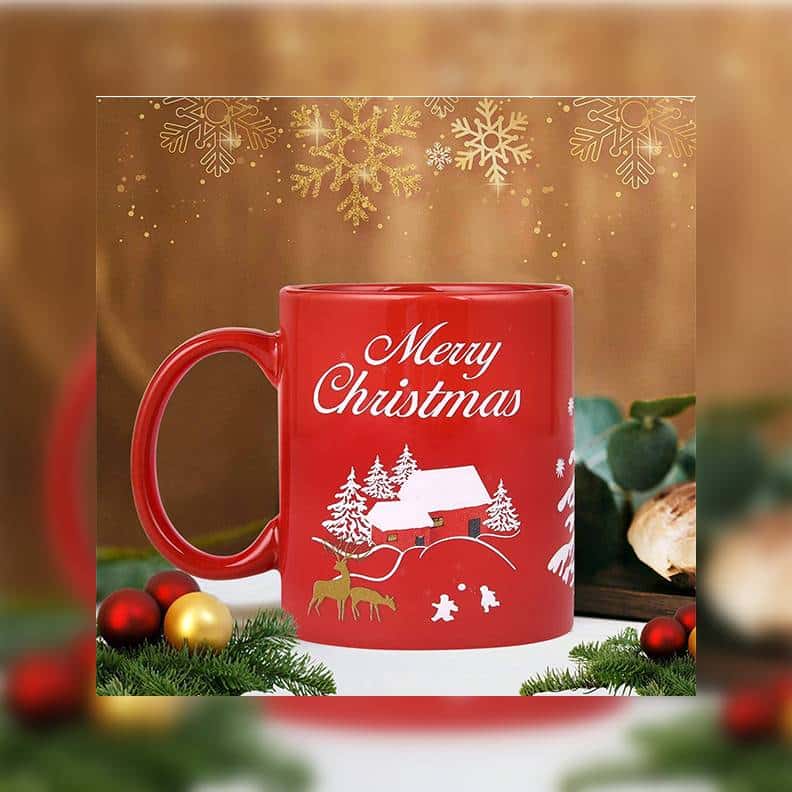 This authentic "Red" colored cup is a perfect choice for a gift, decoration, and serving beverages to guests. With this mug, you can serve your family and friends 11 ounces of hot drinks. This cup is made from high-quality food-grade ceramics, it is affordable and safe for microwaves & dishwashers.
20. "Winter Tree" Holiday Coffee Mug By HannahsGiftHaus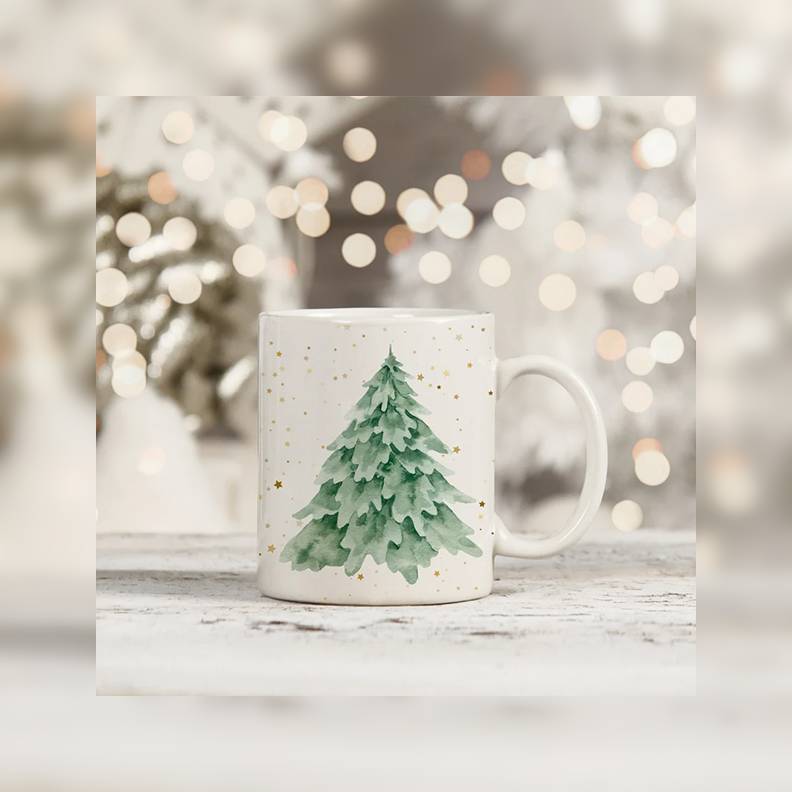 Make your Xmas more special by gifting this beautiful "Winter Tree" themed Xmas cup. It uses high-quality printed ink, ceramic-made, and glossy finishing.
21. "Farm Fresh" Christmas Coffee Mug By LisbonBlue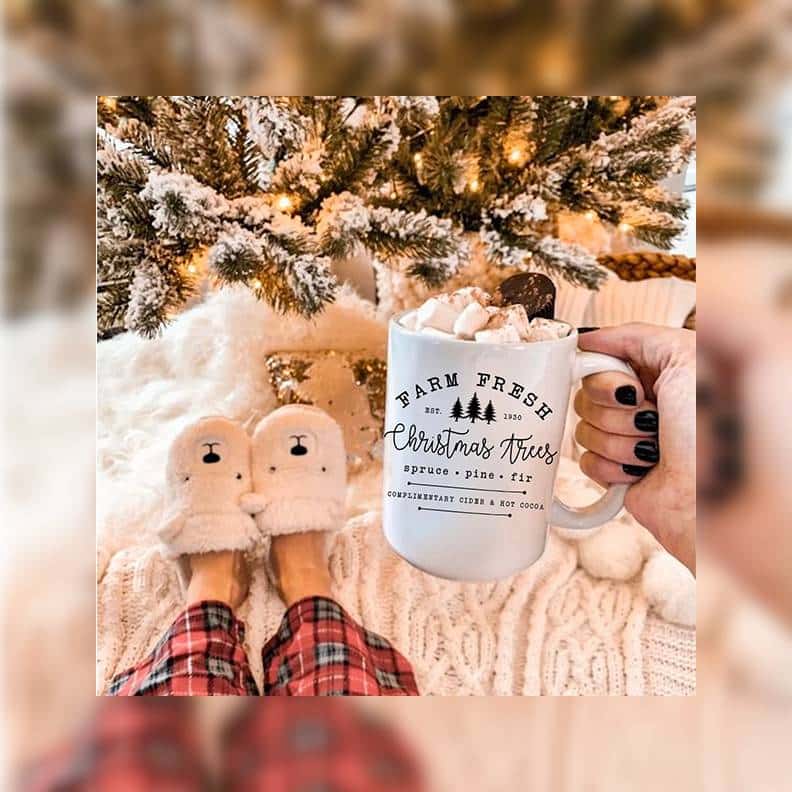 Do you love huge mornings? Then treat yourself to this beautifully rounded handle cup and enjoy your every morning. This mug comes with various rim color options like black, red, and pink.
22. LDSINC's Funny Christmas Mug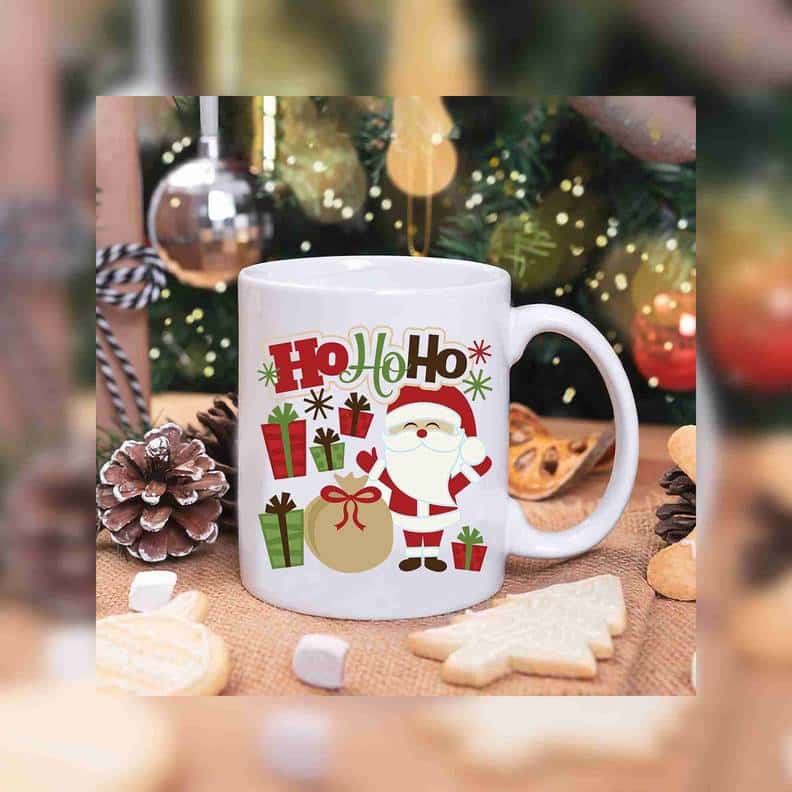 This cup is a timeless edition with Hohoho, a signature Santa smile, making it a wonderful gift choice for every friend. This mug is made from ceramic and It is available in different designs.
23. Big Size Xmas Mug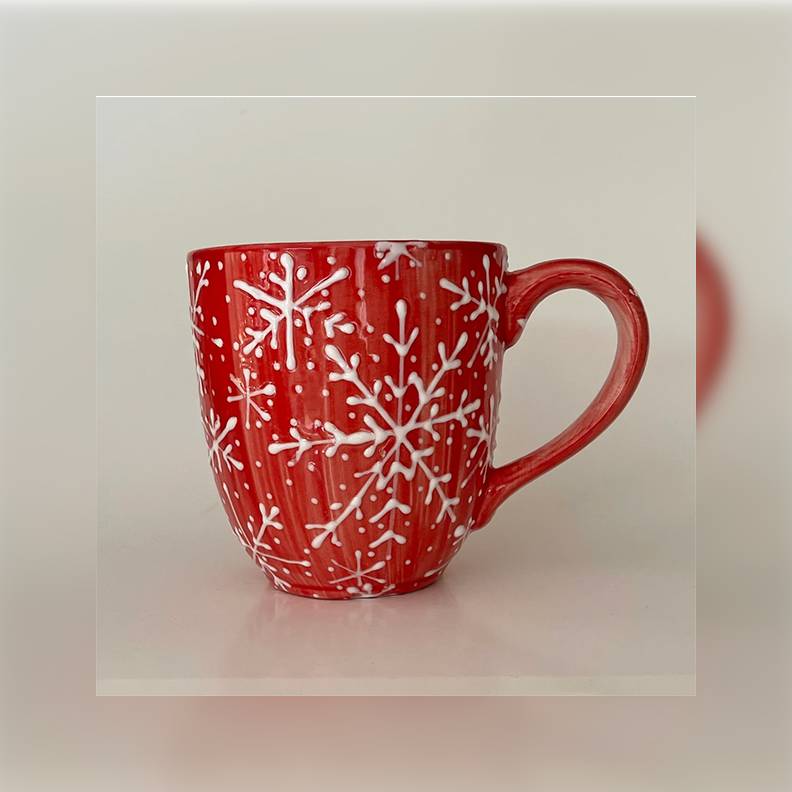 Looking for a memorable gift on Xmas Eve? Then check out this red-colored ceramic cup with beautiful snowflake prints on it.
24. Handmade Gingerbread Man Themed Christmas Mug By Bilyana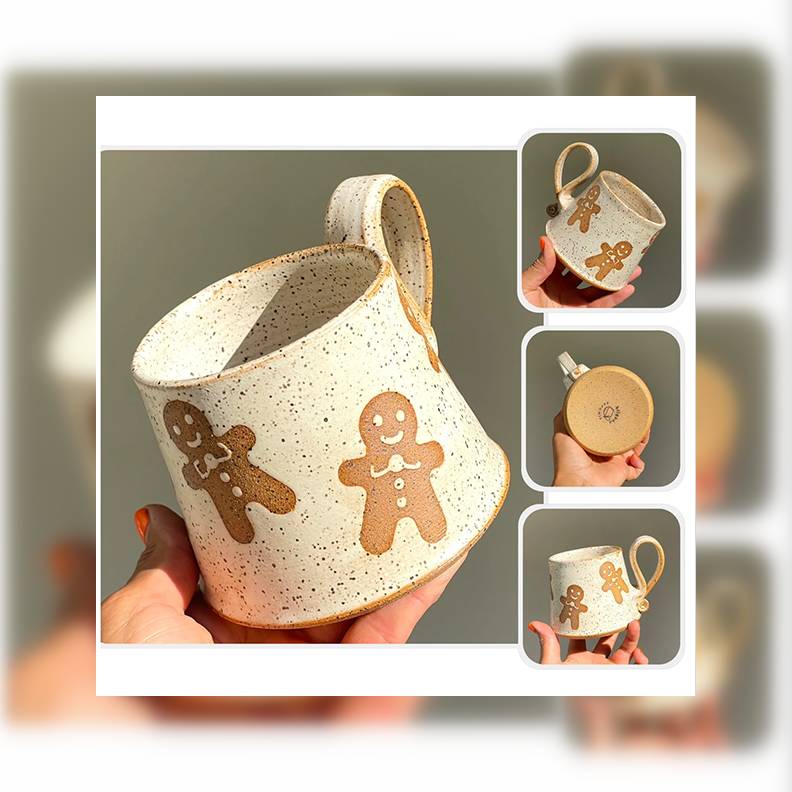 This cup comes with a gingerbread man design and a combination of eco-friendly ceramic material with black dots. It is an ideal gift for your guest.
25. "Santa Face" Porcelain Holiday Mug By burton+BURTON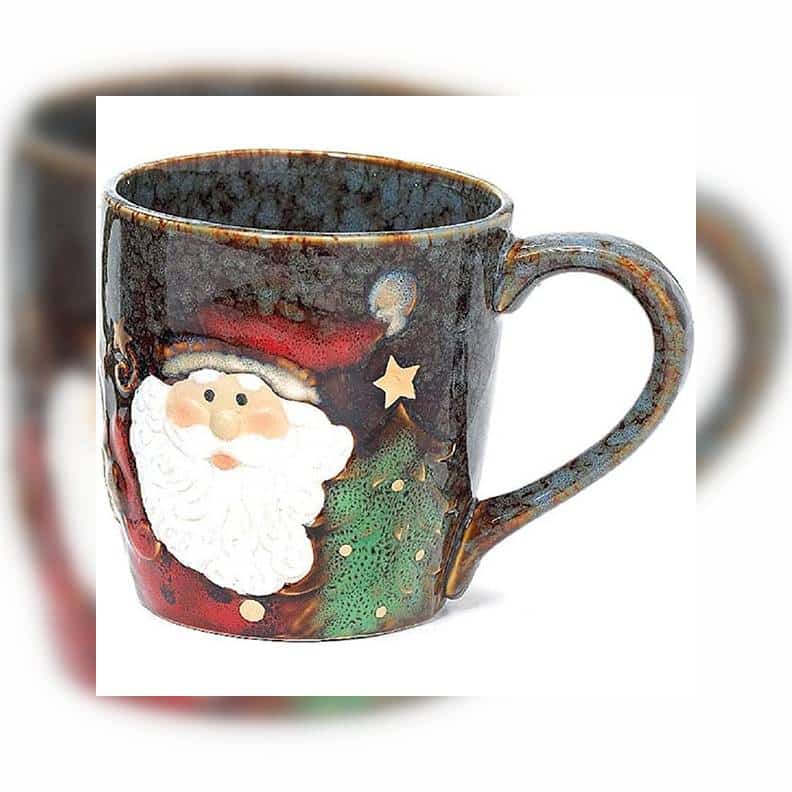 This porcelain finished christmas mug comes with a Santa face and a Xmas tree to match your Xmas vibes.
26. Set of 4 Coffee Mugs By Topadorn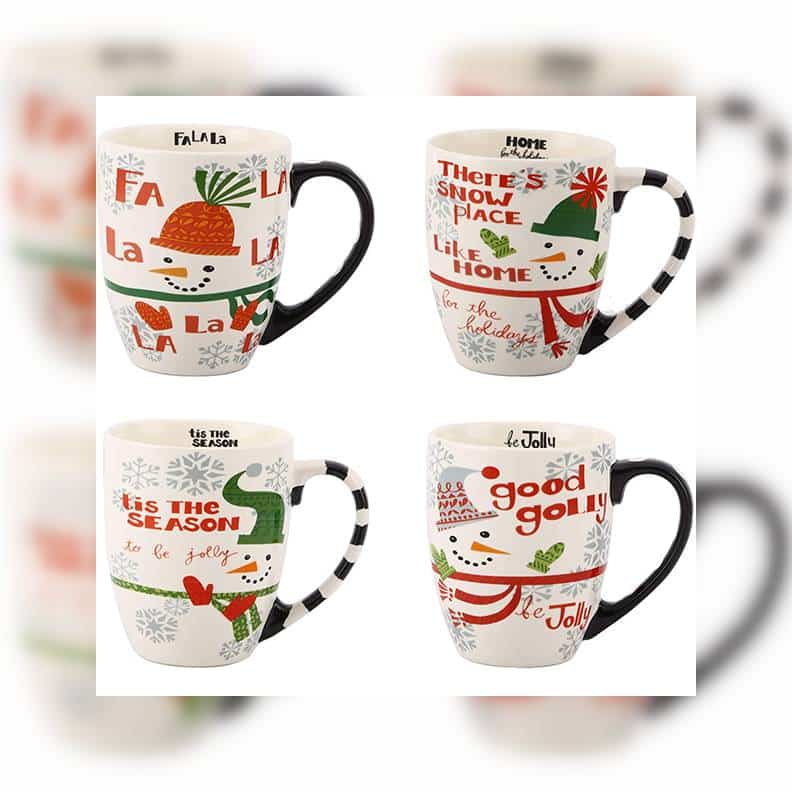 Another modern style porcelain made cup with an 18 oz capacity, completing the needs of gifting your partner near the riverside. This mug is 100% eco-friendly, microwave and dishwasher safe.
27. Bruntmor's Cute Ceramic Christmas Coffee Mugs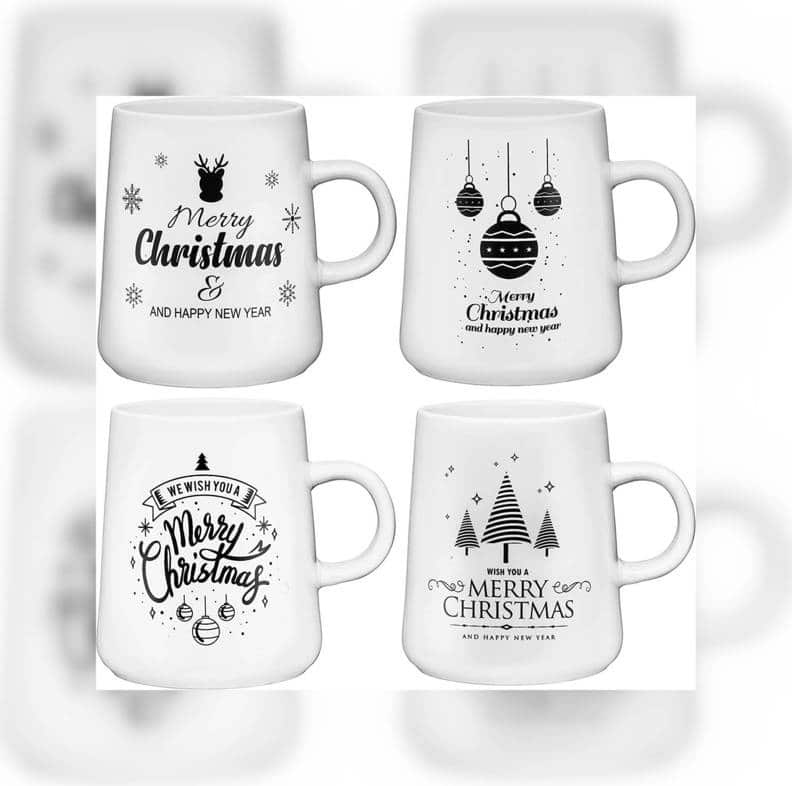 This classic white color mug comes with four different printed designs and gives a heartwarming vibe while sipping coffee with partners.
28. Christmas Mini Coffee Mugs By Nefelibata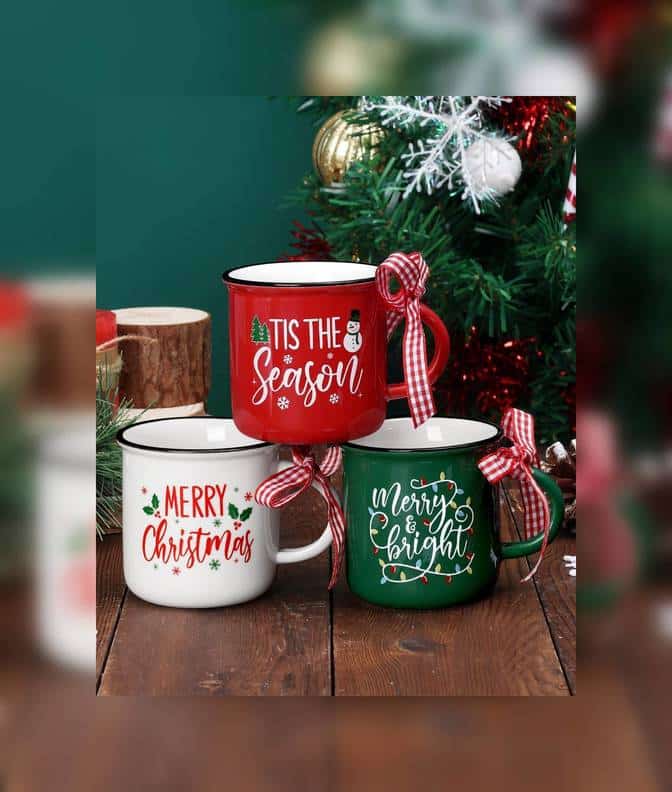 These three different colored ceramic mini holiday mugs are more suitable for Xmas decorations, return gifts, or gifts to yourself. This mug is available in 2 designs.
29. Riverside Bridal's Funny Christmas Mugs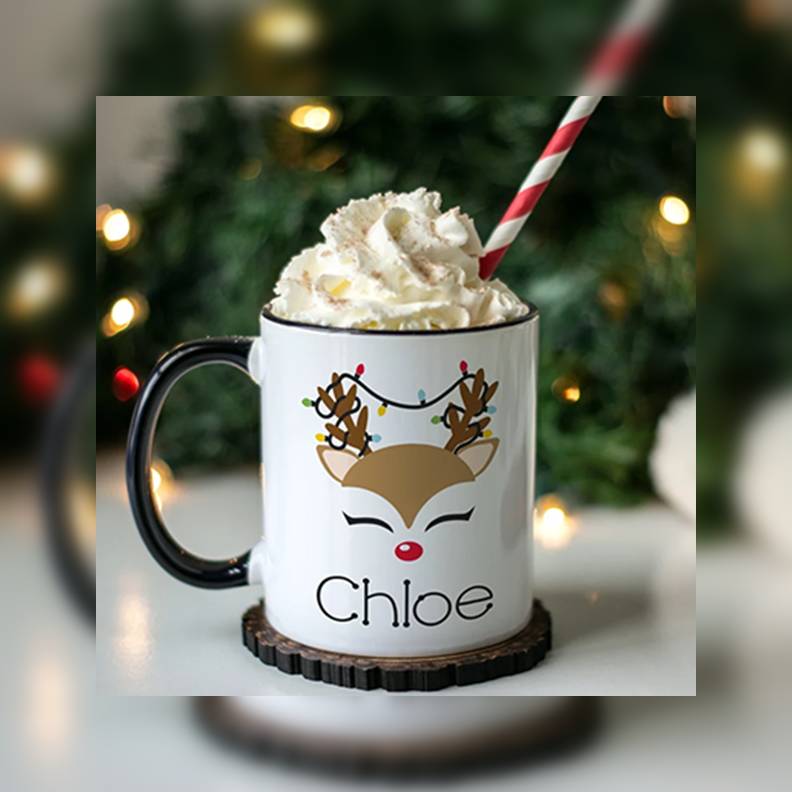 This cute mug is available in different designs and names. This Xmas mug surely matches your holiday vibes.
30. Santa & Friends Christmas Coffee Mugs By Personalization Mall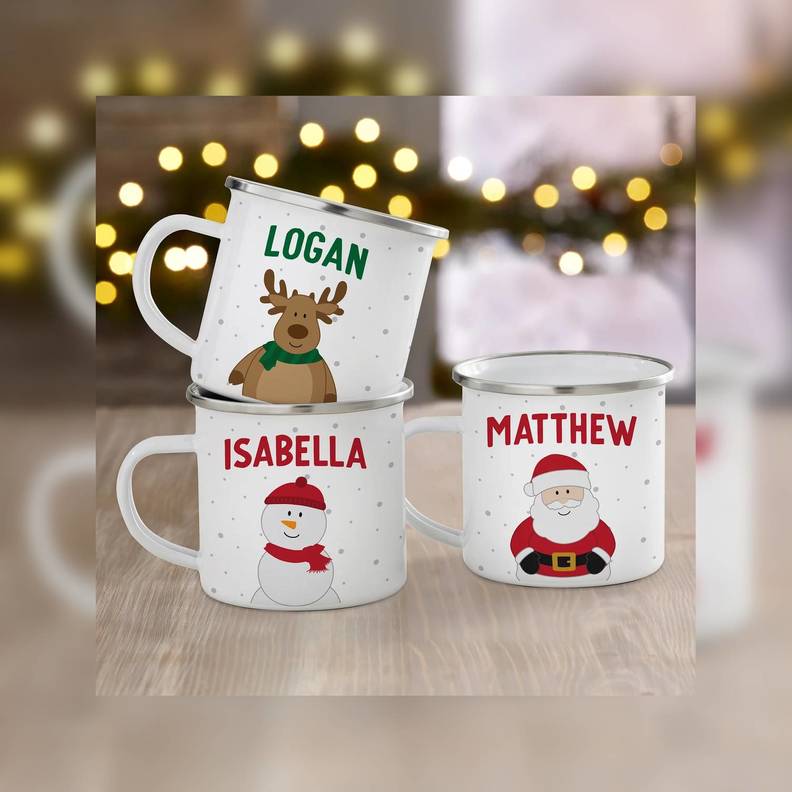 This holiday mug is another choice to give someone in the Xmas season for sipping their favorite beverages like cocoa, coffee, etc.
31. Colorful Christmas Trees Mug By Kelsey McNatt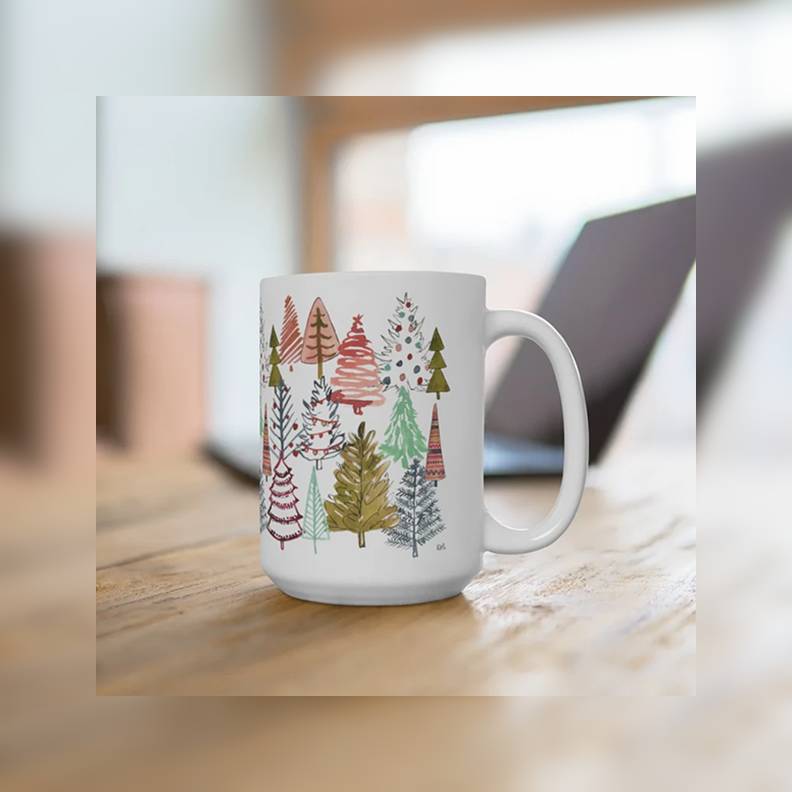 This ceramic mug fulfills all your demands like large handles, classic shape, and white color. That's why this mug is the right fit for any beverage in this festive season.
32. Christmas Squirrel Light Mug By Darlene Hendertson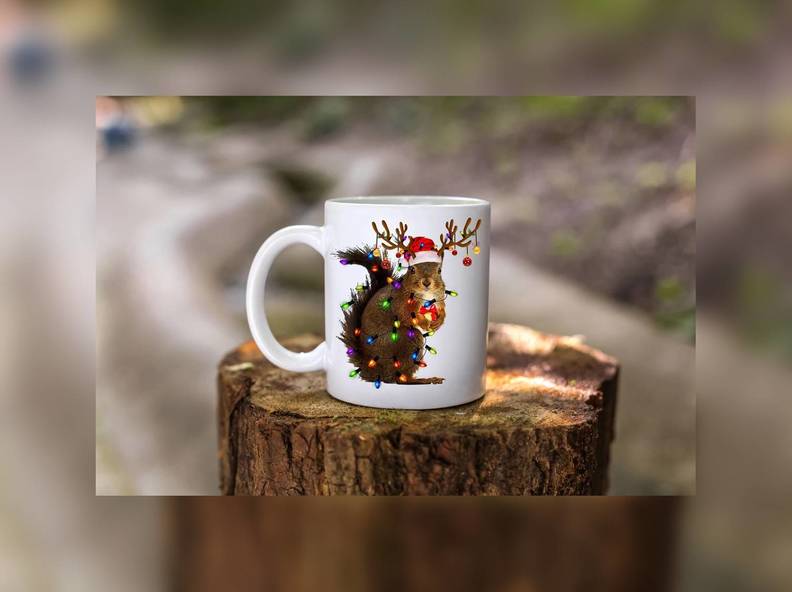 This "Squirrel Light Mug" is adorable as a present. Give this premium quality holiday mug to your dearest and sweeten your relationship!
33. Christmas Coffee Mug By Let It Be Yours Co.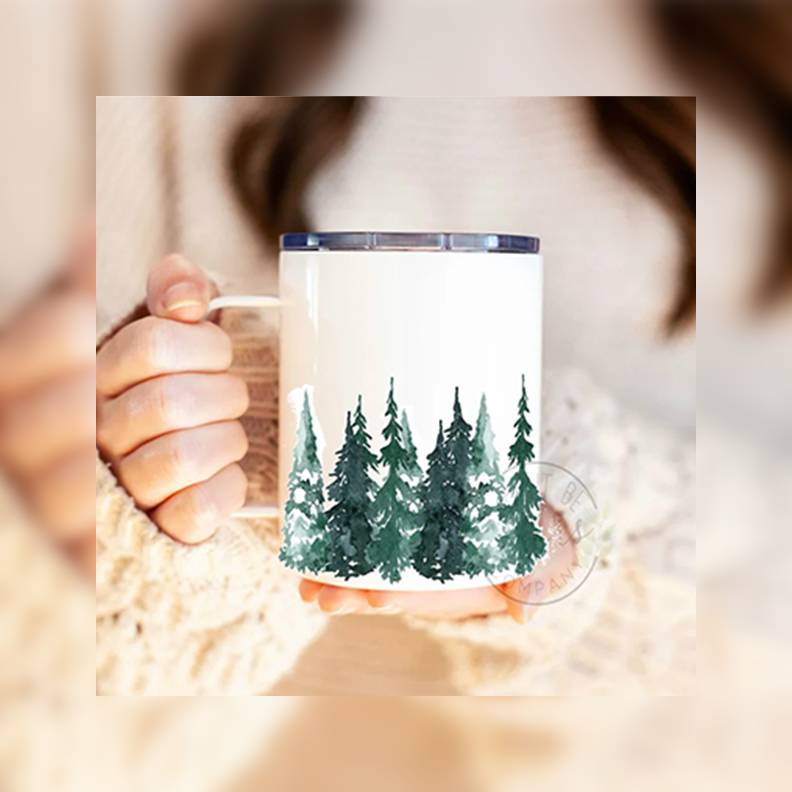 This adorable, elegant, and classic holiday mug is best for your minimalist friends! This ceramic mug uses high-quality printing ink. This mug is dishwasher and microwave safe.
34. Sweese 627.289 Christmas Mug Set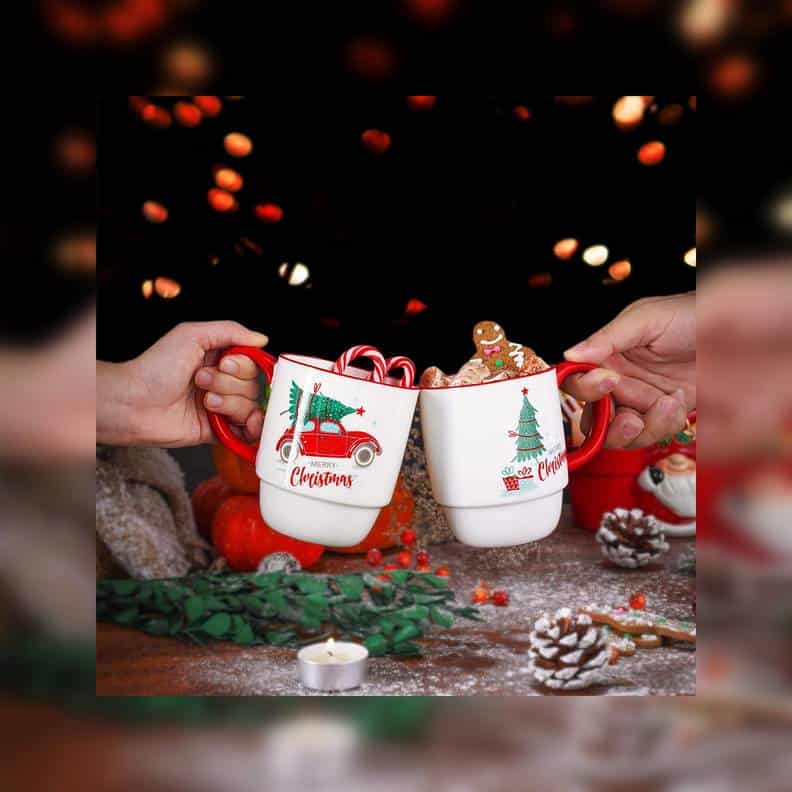 Make this Xmas more valuable by gifting your kids red and white kid-friendly cute mugs! This mug is made from Porcelain and it is safe to use with a dishwasher, microwave, oven, and freezer!
35. Funny Elf Christmas Tumbler Cup From GLANRA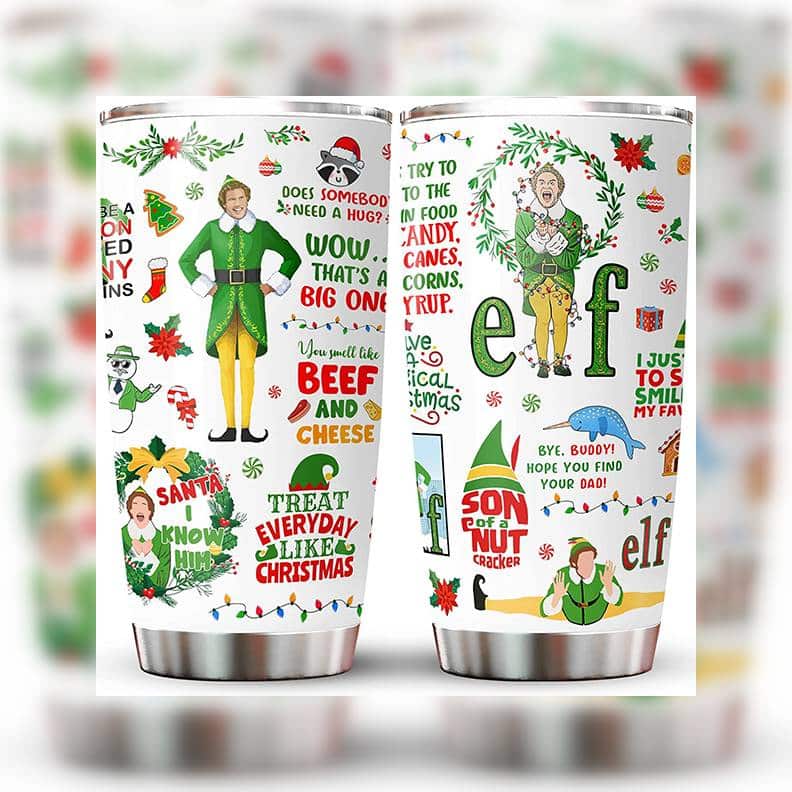 This stainless steel double-wall insulated tumbler cup is perfect for beer, coffee, or drink with your friends. Also, this tumbler cup comes in more than 15 designs. That's why this cup is the best gift for your loved one.
36. PerfectoStore's Gnomes Christmas Coffee Mug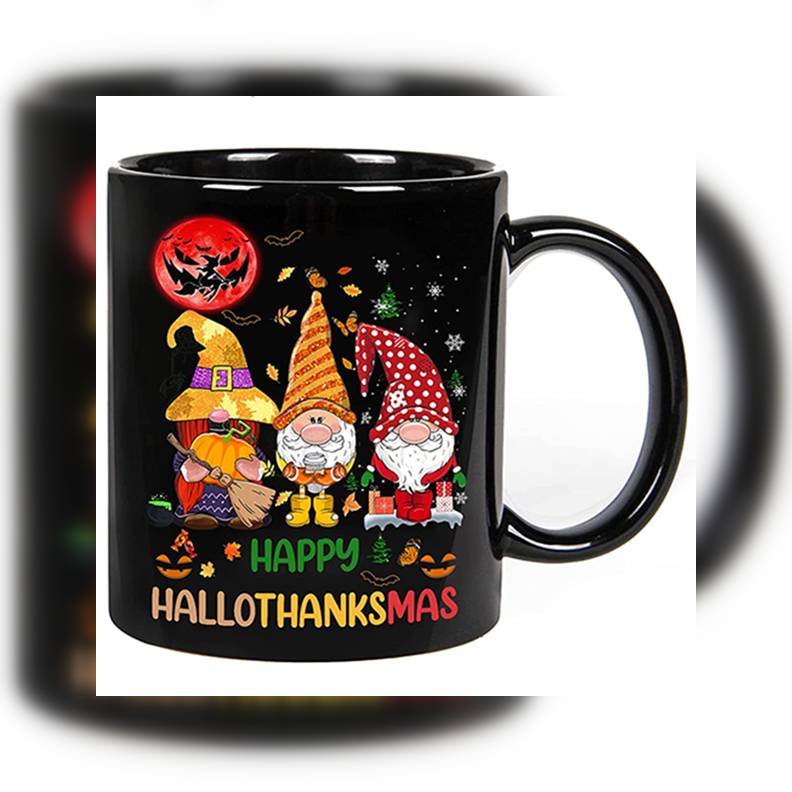 This ceramic large size cup comes in 2 colors. Black and White!
37. VAHDAM's Christmas Mug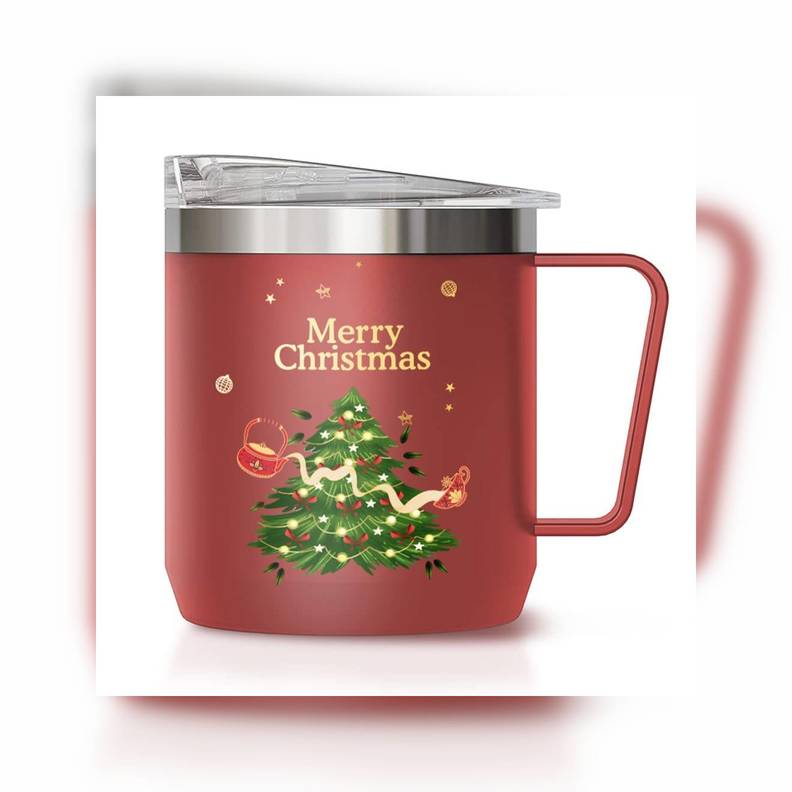 This fall season, get a cozy coffee or hot chocolate sip with this beautiful red cup. It is available in more than 10+ designs and colors.
38. Pfaltzgraff's Winterberry Christmas Coffee Mugs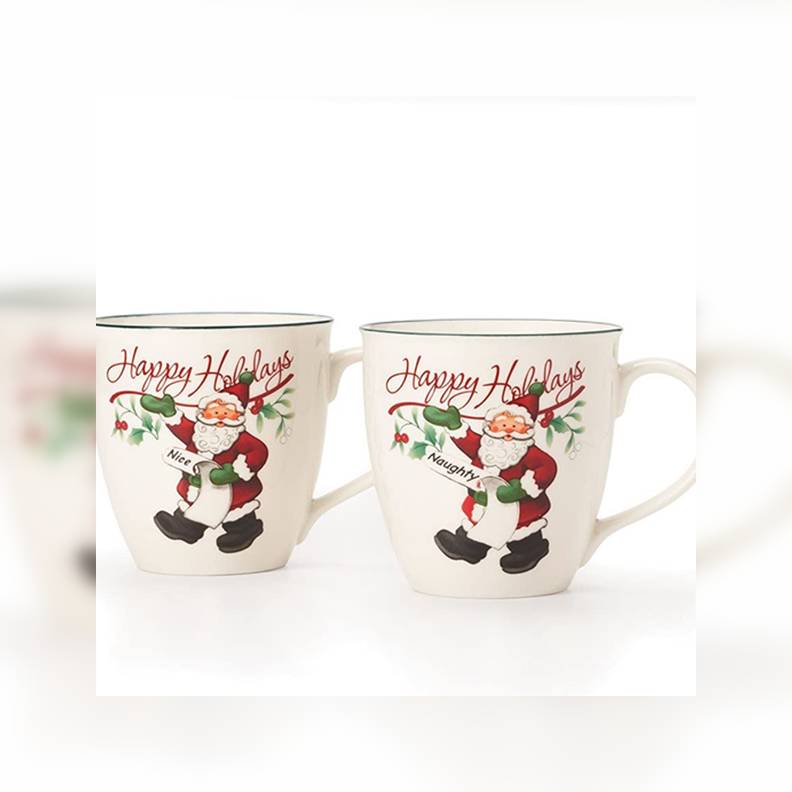 This white porcelain mug comes with a "Nice & Naughty" themed Santa. The printing ink of Santa is of good quality. This holiday-themed mug is 100% microwave & dishwasher safe. That's why this mug is an ideal choice to serve hot chocolate and hot cider to the guest.
39. "Snowman" Coffee Mug By Lang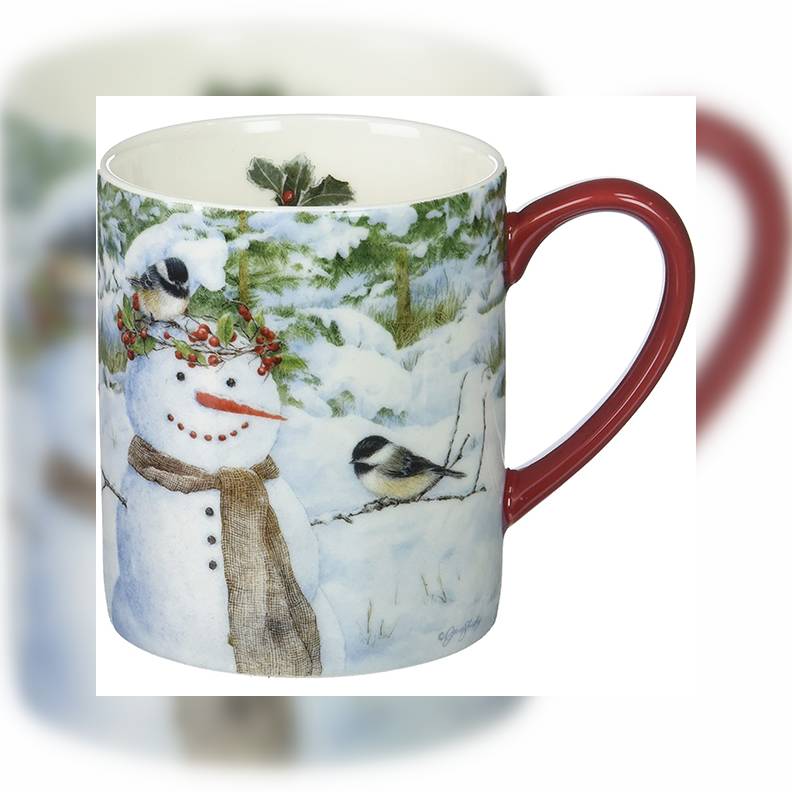 This modern-style mug comes with a 14 oz capacity, making it ideal for return gifts, long discussions, and date nights.
40. Multicolored Christmas Coffee Mugs By Certified International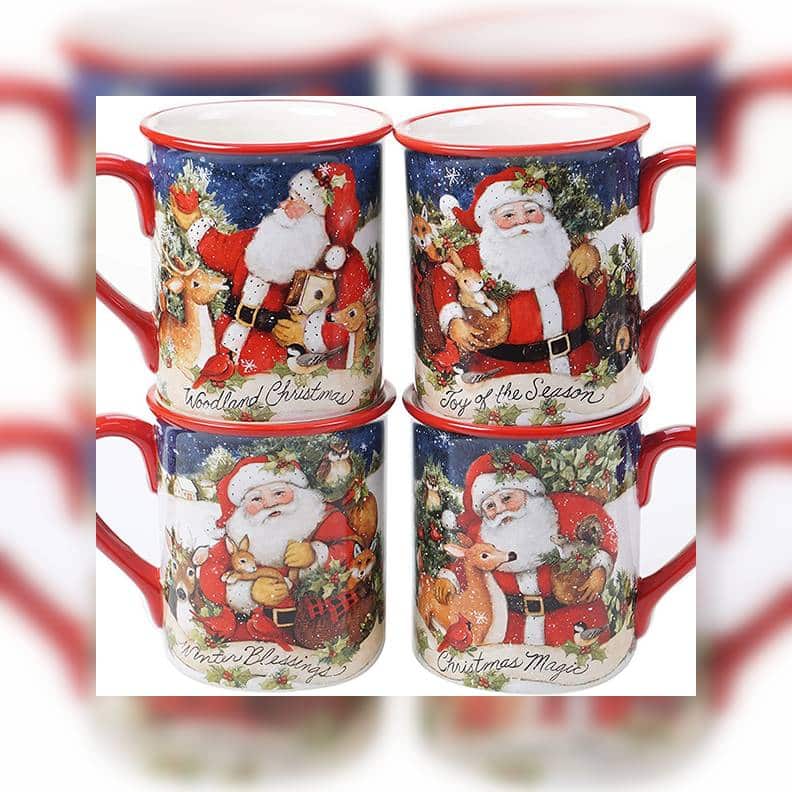 This is another kids-friendly multicolor mug, offering a 16 oz capacity with a modern style. It is giftable, durable, and hand-painted.