Introduction
The Vermillionaire Plant is also known as a Firecracker Plant. Vermillionaire is a Cuphea hybrid 'Cupver' in the Lythracease family. The plant is a perennial from tropical America. It is also a compact hybrid that proposes a long-lasting floral display. and while the leaves are glossy, lance-shaped, and dark green. 
A firecracker plant is also called an indoor plant. It is a tender plant. And it is a native of Mexico. This relatable species of firecracker plant is cuphea hyssopifolia (Mexican heather) and is a gentle perennial used mainly for bedding out, except in frost-free areas.   
Vermillionaire has great potential to transform outdoor spaces. In addition, most varieties need about 2.5 cm of water per week during the growing season. A balanced organic fertilizer can provide the best result to transform outdoor spaces. as well as proper sunlight is necessary. in addition, temperature and the best soil are also required for the best of this plant.
Why Vermillionaire Plants Are So Alluring
What are firecracker plants?
This plant is a compact and well-branched perennial, grown as an orange flower from late spring to the first frost. Another name for Vermillionaire is Vermillionaire Cuphea. Its upright growth habit makes it great for flower beds (containers). 
The Vermillionaire loves the fall sun and heat. As a matter of fact, the plant requires regular fertilization from spring until fall to keep shining. The plant needs regular watering. It will also need direct sunlight and a warm place to stay. In addition, this plant cannot bear being too cold.
Visual Impact
The Vermillionaire Cuphea produces clusters and clusters of tubular-shaped orange-red flowers with yellow to white pigmentation at the tips. as well as, these flowers look like mini firecrackers, so it is also known as a firecracker plant. Its brightly colored blooms will attract hummingbirds like other plants.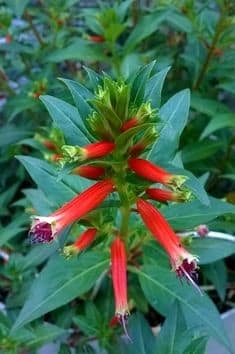 Selecting the Right Vermillionaire Varieties
As a matter of fact, Vermillionaire plants love hot, well-drained soil and sunny days. In warm climates, the vermillionaire can grow like an evergreen shrub. on the whole, David Verity cigar flower, candy corn plant, Flamenco samba cuphea, Mexican heather, Minnie mouse cuphea, Totally tempted mouse flower, Mexican sunflower, etc. are the types of Vermillionaire varieties.
Obviously, selecting the correct varieties and growing them according to the need is the primary purpose of the gardener. In addition, different plants (varieties) require different amounts of soil, sunlight, fertilizer, care, etc. Candy Corn is a Mexican Cuphea species that can grow up to three feet tall and wide. The stems of Vermillionaire plants are decorated with orange and yellow flowers. While in Mexico Erica is a 24 cm tall plant. Completely tempted to carry large crimson flowers on 12-inch tall plants. in addition, the Mexican sunflower attracts butterflies.
Thus, selecting the right Vermillionaire varieties is necessary for your garden.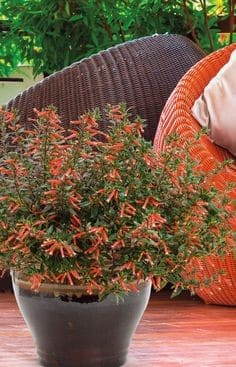 Planning and Design
It is a heat-loving plant that flowers from spring to frost in the fall. Firstly, the outdoors should be spacious so there will be enough space for heat and air because its foliage tends to remain dense right to the ground. There is a saying that a Vermillionaire plant is very friendly and does not require much care. The outdoor space must have full sunlight, medium moisture, and well-drained soils. In addition, you do not need to cut your cuphea back if you are a southern gardener. Ensure the gardener has advanced experience with Vermillionaire Cuphea. We must see that the soil is virtually pest and disease free. You can propagate plants by using tip cuttings.
There are a lot of designs available in Vermillionaire Cuphea. The plant will reach up to 28 inches annually. The design includes many aspects such as hardiness, exposure, season of interest, water needs, maintenance, location, watering, etc.
The Vermillionaire plant is an easy-to-fit plant. It easily fits in all types of gardens with minimum maintenance. The garden style differs from modern garden to cottage garden. Users use designs such as children's gardens, cottage gardens, English gardens, Cottage gardens, fairy gardens, and pollinator gardens. All the designs are unique according to their theme. It is even sizable enough that it can be grown alone in a suitable container.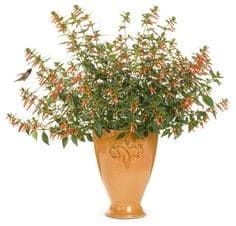 Planting and Caring for Vermillionaire Plants
Soil and Sunlight Requirements
Planting of Vermillionaire requires equal amounts of Soil and Sunlight. Enrich your soil with organics. The compost or aged manure is used for the development of the structure, content, and water retention capabilities of the plant. Water the plant deeply. Maintain consistency. The ideal time would be morning or evening. If possible, use a drip irrigation system for efficient watering.
Planting Tips
Every proper plant requires a proper planting technique. Location plays a vital part in the whole formation of the plant. Choose the right area with sufficient sunlight exposure. The Vermillionaire plant requires a minimum of 6-8 hours of sunlight. The location must have well-draining soil. 
Enrich your soil with organic components. Go for domestic plants that are friendly with your region's climate and soil conditions. Water consistently during early morning and evening. 
Apply organic fertilizers like composed or rotted manuals. This allows your plant to soak in proper nutrients. Use a balanced, slow-release fertilizer to adapt to each plant's needs. Employ organic mulch like straw or wood chips around plants to conserve moisture, regulate soil temperature, and suppress weeds. 
Explore cultural, chemical, and biological control agents to control pests. Attract beneficial insects with generous plantings and diverse habitats. Grow your garden slowly and steadily. A beautiful garden requires attention, hard work and patience.

Maintenance Guidelines
Like Planting, proper maintenance of the garden is also necessary. Without care, you can plant a flower but cannot let it live for a long time. Vermillionaire plants receive maximum benefits from fertilizer. Plants can soak liquid fertilizer in mid-summer to stimulate new growth. A small amount of fertilizer is also applicable to the plant just after the appearance of the new plant.
The Vermillionaire requires full sunlight. Proper growth is not possible without sufficient sunlight. Most varieties of the Vermillionaire will tolerate partial shade. Plant Vermillionaire in full sunlight to prevent plants from becoming bony and to assist brighter flowers look attractive. Above 6 hours of sunlight is required daily. 
Water plays a vital part in the growth of this plant. Make a selection for soaking your plant and pour a few centimeters of fresh water. We must gradually pour the water from above into the soil. We must stop watering once water begins to flow out of holes. Allow it to rest for at least 2 minutes, then discard the remaining water. 
In mid-summer, old branches can puff off to maintain a neat appearance. The best soils are fertile and well-drained. In warmer climates, the Vermillionaire Plant will tolerate light frost. However, it can also be grown gradually in colder climates. In short, the Vermillionaire can perform better in heat than cold. The hardiness of all types of Vermillionaire is not yet fully known. 
Troubleshooting Common Issues
Though we maintain utmost care, we will still face common issues. Flowers may dry out due to a sudden environmental change. Flowers also fade for many reasons. The infection can seed brown spots on the plant. Brown spots can develop in nearly all household plants, but Vermillionaire Plants are not accustomed to them. In some cases, petals start to disappear. 
To fix the problem, we must pour a good quantity of water into the plant. Make sure to provide water early in the morning and evening. Check the soil frequently. Check the proper roots and use the fertilizer as per the plant's needs. It requires a lot of maintenance in summer, so it focuses more on summer than winter.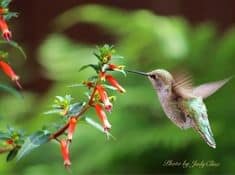 Vermillionaire Plant for all Seasons
Vermillionaire have different outcomes depending upon the respective seasons. 
Spring Awakening
Spring is a season of rejuvenation. It is a time when a flower bursts back to life after a long, cold winter. As the days grow longer and warmer, the color formation gets more beautiful. Spring has 3 phases: early spring, mid-spring, and late spring. 
Early spring is an exciting time for gardeners. It starts with a new growing season. It consists of snowdrop explosion, primrose power, bulb beds, edible greens, wildlife welcome, etc.
Mid-spring is an inspiring season for gardeners. It is considered a period of rapid growth and blossoming beauty. It consists of spring bulbs, edible gardening, ornamental grasses, supportive climbers, etc.
In late spring, the color and growth are at their peak. The weather is perfect for flowers. It is the best time to seed the flower, opt for a better feature, design a butterfly garden, start a compost pile, etc.
Summer Splendor
Vermillionaire plants embrace the season with blooms and foliage. It is time for the gardeners to go for typical cottage gardens. The summer garden radiates joy and beauty.
Fall Foliage
Fall can be a fruitful time for the gardeners. It is a season for beautiful colors and harvests. It is the best time to plant full blooming flowers, create a foliage show, decorate and harvest, plant spring bulbs, attract bees, preserve herbs, etc. 
Winter Interest
The winter garden also provides seasonal interest. Many plants can enhance your winter garden, providing various options for beauty as flower blossoms are limited. This includes winter-blooming plants, bark and branches, bird feeders, berries, evergreen plants, winter care, indoor gardening, and more.
Vermillionaire plant in urban landscapes 
Balcony and Rooftop Garden
On the floor of your home, Vermillionaire cuphea, flowers, and plants thrive. As the name suggests, it might grow on the roof, terrace, or balcony. The cipher is placed on the floor or in a pot. The plants can be cultivated in single-story houses, storage facilities, apartments, office spaces, and more.
The rooftop will be used as a terrace of a house/office. Water the plant properly without leaking or without the floor getting wet. Plants with roots are dangerous. It can convert into a huge tree in the future which will penetrate the wall. Vermillionaire plants are easy to grow. 
Vertical Gardening
Vertical gardens help to scale back carbon by filtering pollutants and carbon dioxide from the air. It will help those living nearby because it clears the air. Vertical gardening is one of the simplest methods for the plantation. Harvesting and maintaining a vertical plant is easier.
Steps to build a Vertical Garden
Select a wall

Select the frame and build it

Set up irrigation system

Add a fertilizer injector

Choose your plants

Seed your plants
Conclusion
To conclude, we can say that if we take proper care of the Vermillionaire plant, then we can end up with a beautiful, colorful, and lovely flower. Apart from care, special precautions are required.
If we plant it in outdoor space, then water space should be provided to it. Fertilization equipment must be provided. Any harmful bacteria or outer insects should not come inside the pot. The plant helps in curing many diseases. It is a home made remedy for headache, joint pain and many other remedies. Thus we must maintain it with utmost care, especially in winter. By observing the mentioned advantages, we must grow Vermillionaire Cuphea in our garden. 
Frequently Asked Questions (FAQ's)
Q : How big does Vermillionaire grow?
A : Vermillionaire can grow up to 45-70 cm (17-28 inches). And 30-60cm that is 12-25 inches wide. It thrives in full sun and light moisture.
Q : Can Vermillionare grow back ?
A : Vermillioniare can come back in some season. It depends upon the plant and the season. 
Q : Do we trim Vermillionaire?
A : The adult plant is very tolerant. It needs regular watering when growing. Vermillionaires are best with average soil. 
Q : What is another name for the Vermillionaire Plant?
A : Another name of the Vermillionaire Cuphea is Firecracker Plant. 
Q : Why is it called a firecracker flower?
A : Firecracker plant is a species of flowering plant in the family plantaginaceae. This is a native to mexico. 
Q: What is the difference between annual plants and perennial?
A : Perennials are plants that will come back and regrow year after year. The annual Vermillionaire Cuphea dies every year, especially in the cold. You require it to plant each year. You need to do the whole process every year. 
Q : Are firecracker plants poisonous?
A : The firecracker plants have a high risk of poisonous characteristics. In some cases it proved very harmful.
Q : What are the advantages or benefits of firecracker plants?
A : The benefits or advantages of firecracker plant are that it is use in fever, treats minor headaches, aperitifs, pain and also helps in some types of wounding heals. 
Q : How tall do Vermillionaire plant get?
A : The plant tends to grow 2 feet tall and wide in a rounded shape. It has multiple stems.