Introduction
"How do I remove years of soap scum?" – Anonymous.
We can completely understand that weird feeling you get after noticing the soap scum or hard water stains in some critical areas. Firstly, you may have tried a ton of non-toxic solutions such as vinegar or baking soda, but they are also ineffective to a certain extent.
The non-toxic or natural soap scum removers can only work to a limit. After that, you only have the option to go for dedicated soap scum removers! They are chosen for various advantages such as surface compatibility, removal of different kinds of stains other than soap scum, removal of prolonged stains from surfaces, and so on.
This article has formulated a guide on the top 12 best soap scum removers. Also, insights in the buying guide are some best homemade soap scum removers and essential FAQs.
What is a Soap Scum Remover?
Soap scum removers are generally applied on surfaces containing hard water stains, soap scums, dull films, mineral deposits, or other kinds of deposits that you usually find in areas like showers, bathtubs, toilets, kitchen sinks, etc.
Soap scum removers can be available in various forms and made in different mixtures. In terms of formula, there could be both a chemical-based or non-toxic plant-based formula.
And, you can buy soap scum removers such as sprays, creams, concentrates, and cleaning pads. The best part about a soap scum remover is that a good quality product is compatible with various surfaces and helps you eliminate different kinds of stains.
What Factors to Check Before Buying The Best Soap Scum Remover?
Soap scum cleaners or soap scum removers can never go out of style if you're successful in considering their usage and corresponding significance. Therefore, we have selected our top products based on several factors discussed below.
So, skim the content until the end and be an informed buyer!
1 – Surface Applicability
Despite the availability of different types of soap scum removers, they also have a purpose for application on other surfaces. Therefore, you need to check for surface applicability because you don't want to buy cleaners for different characters in your home.
Based on the level of elbow grease or dirt buildup, check the application procedure of each different type before deciding your best option.
2 – Chemical vs. Non-Toxic or Plant-Based Cleaners
We've included approximately two homemade soap scum removers or natural scum cleaners in our top 12 list. So, what's the difference between using a chemical-based and plant-based soap scum cleaner?
Mainly, it's the ingredients that go around the corner! For example, chemical-based cleaners can have harsh abrasives, whereas plant-based or non-toxic ones are mild ones. Well, this basic info was cleared by their respective names!
You have to consider here again the type of surface upon which a certain soap scum remover is applicable. Also, check for the kinds of cleaning formulas or abrasives used in chemical-based cleaners.
Most of the time, brands take the initiative to produce only mild abrasive products, even if they're chemical-based. For example, all the best soap scum removers mentioned above don't contain any harsh formula.
3 – Is Scent or Fragrance Essential?
Every soap scum cleaner comes in a scented form. However, many are unscented as well! Considering fragrance is crucial because it may not harm your internal environment.
The scenario will be dangerous if the fragrance is too strong and the solution is a chemical! So, for instance, if you choose a product containing bleach, know that you will have to ventilate the room to avoid inhaling the harsh scent and fumes.
Natural or "green" products may consist of fewer harsh smells. Still, it is worth noting that one 2011 research reported that green cleaning products had virtually the exact levels of VOCs or volatile organic compounds called traditional products.
4 – Cleaning Formulation
Soap scum cleaners are available in a wide array of cleaning formulations. As already mentioned, there could be a plant-based, non-toxic, or chemical-based cleaning formula.
Non Toxic cleaning products should not include chemicals like ammonia, chlorine bleach, phthalates, or heavy fragrances. They only consist of mild abrasives, fewer caustic acids, or plant-based chemicals.
EPA and USDA can also determine the best soap scum remover quality. You can explore the EWG's Guide or Environmental Working Group to Healthy Cleaning for product toxicity and ratings.
However, you may have to go for chemical-based solutions to remove tougher stains that didn't go with the plant-based or non-toxic ones. In that case, also, you should consider whether the solution contains harsh or mild abrasives.
5 – Application Method
Now, in the end, you may also look for application types for your convenience. Application types vary ranging from sprays, creams, concentrates, and cleaning pads.
Sprays and liquid solutions among them are the easiest to use. But creams and concentrates are a little professional and may require scrub application over the affected surfaces.
Lastly, the cleaning pads are non-scratch ways to remove stains from affected places in your kitchen, bathroom, or other areas. You can combine your chosen spray or concentrated product with a cleaning pad only on hard surfaces, like tubs, tile, shower doors, and sinks, that can handle mild abrasion.
12 Best Soap Scum Removers for Your Tiles, Bathroom, & Glass Surfaces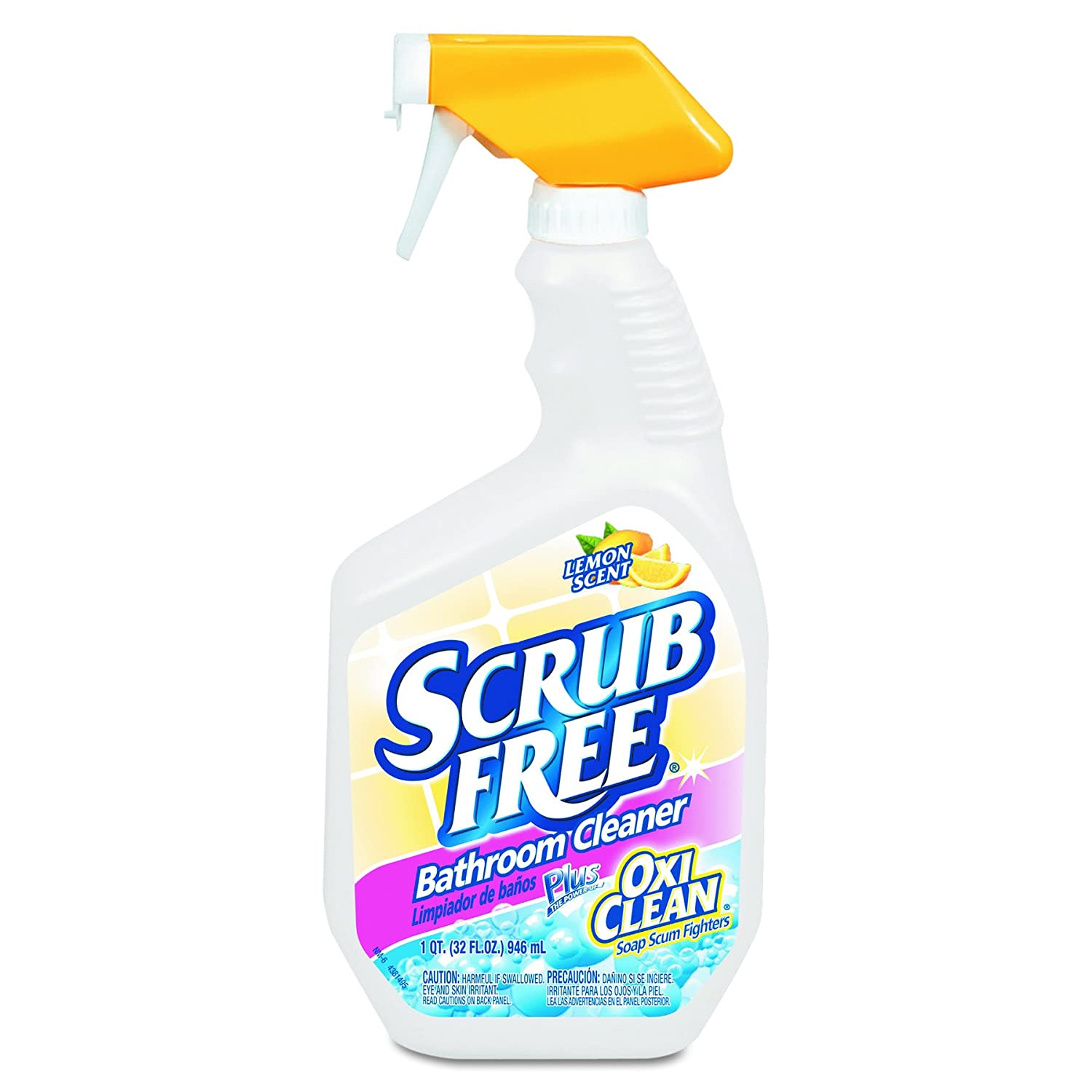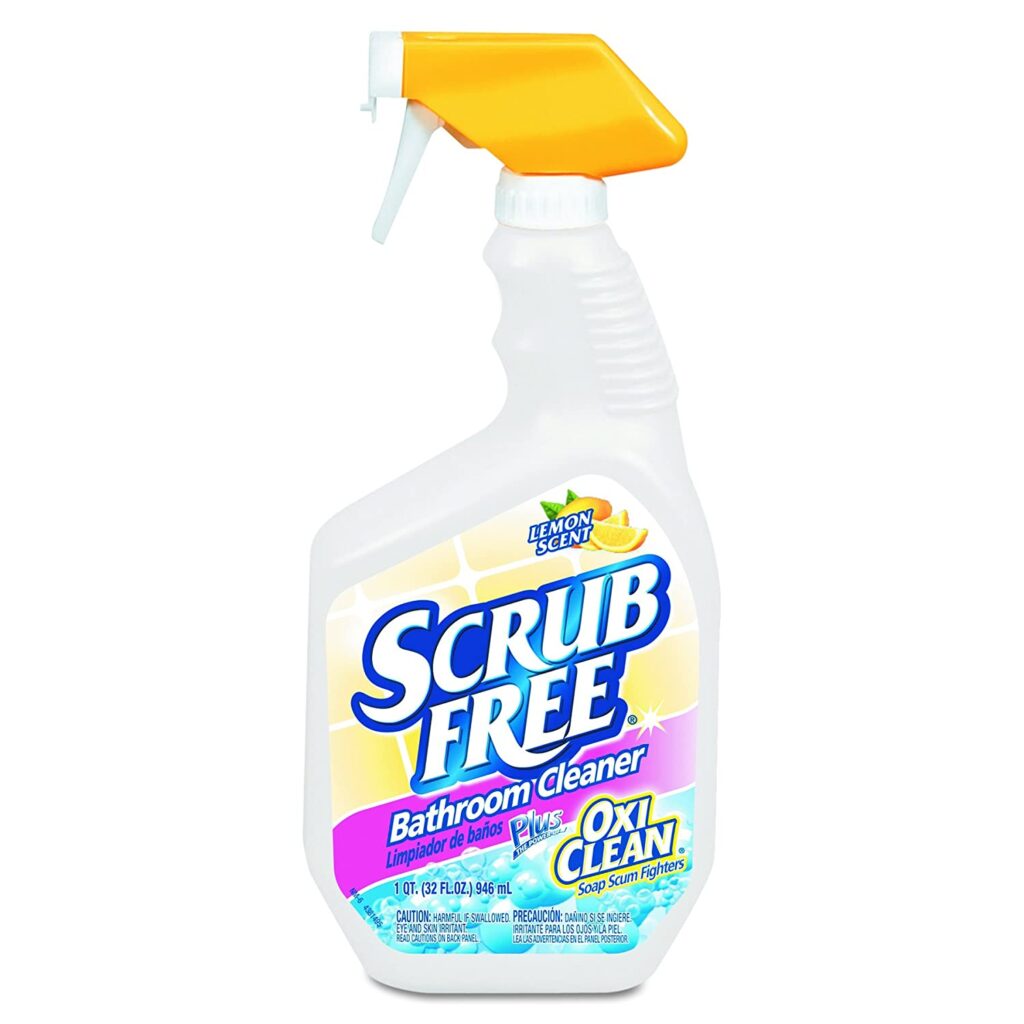 This is our first best choice of scrub-free soap scum remover. It is applicable on versatile surfaces and leaves no scratching behind. Instead, you will get a clean, smooth, and glossy finish over the affected area. Moreover, you will get a 32oz spray bottle in a pack of 8 which is a great deal in such a price range.
Key Features
Applicable on doors, tiles, sinks, porcelain, acrylic, fiberglass tubs, and shower
Lemon fragrance
Foam spray
Scrub-free
Non-abrasive formula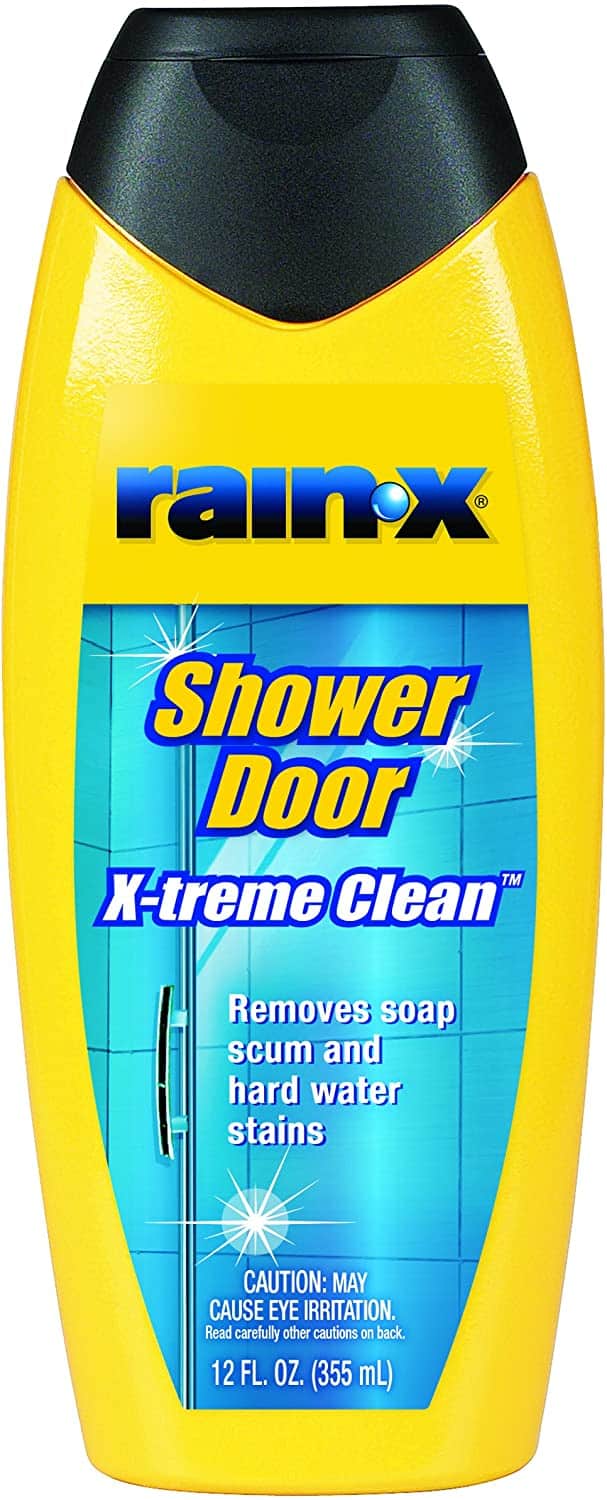 This product is specifically designed to remove tough stains from glass shower doors. Being available in gel form, you need to scrub it gently over the scum surface and wait for a while to let it do its magic. It comes in an easy applicator mode with 12 ounces of bottle packaging.
Key Features
Applicable on glass shower doors
Lemon fragrance
Gel form
It needs to be applied under pressure and rubbed in a circular motion for the best results
A unique formulation to clean glass surfaces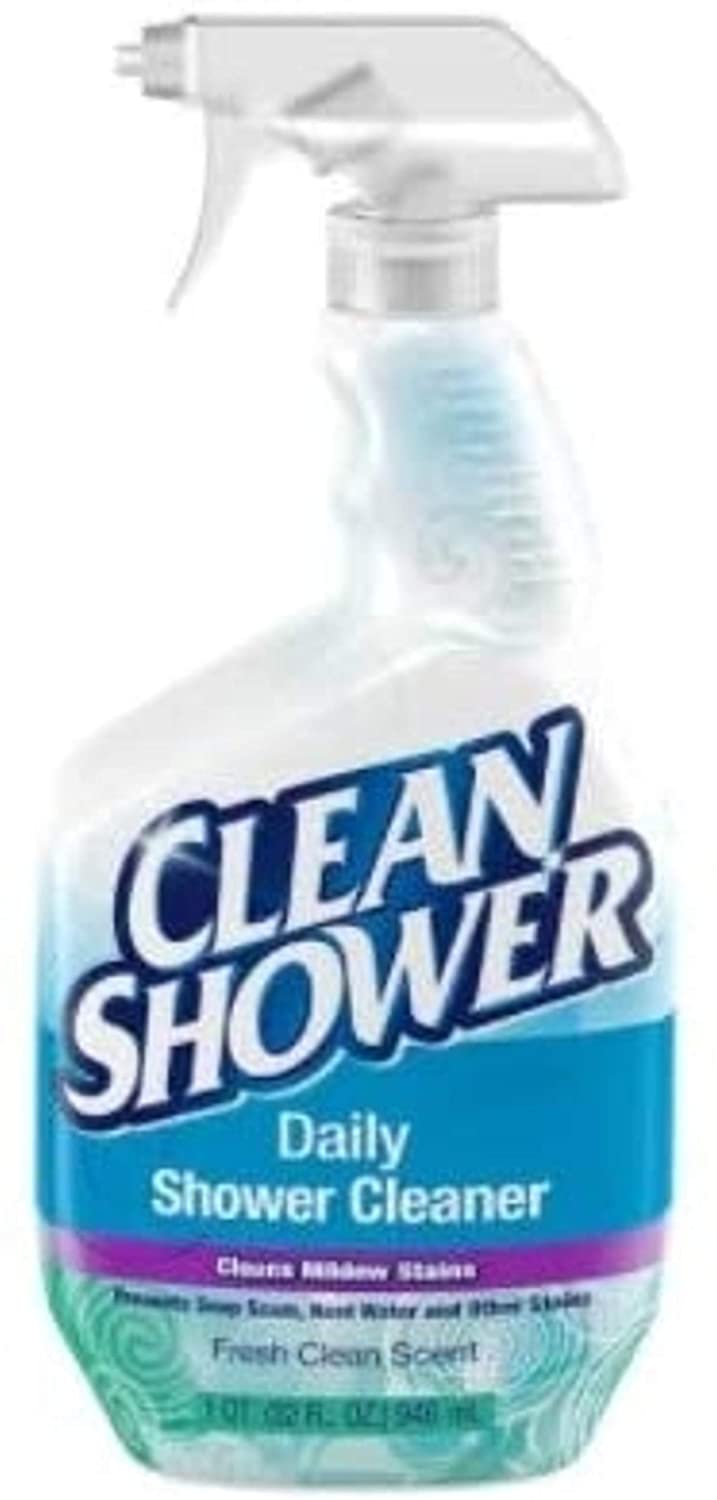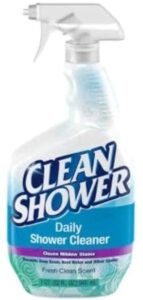 Again, a scrub-free cleaner comes into our list with the easiest applicator! Its fresh-scented 32oz bottle is available for versatile application on surfaces concerned. It is further exclusively proven to be effective in cleaning grouts. Moreover, this product can be used regularly to avoid hard water stains and can be applied even while you're showering. This isn't slippery at all!
Key Features
Applicable on hard water stains and shower doors
Fresh scent fragrance
Liquid form
Scrub-free application
It can also become a preventive measure


This is a soap scum and grime cleaner spray bottle by the brand Bucko. This product is available in 32oz packaging and comes in different options as per the packaging. Furthermore, if there isn't any scrubbing needed with this spray foam cleaner, leave it for about 5-10 minutes, and then simply wipe the area to get a glossy finish.
Key Features
Applicable on glass shower doors, acrylic bathtubs, sinks, dull chrome fixtures, grout, boats, outdoor furniture, and wheel rims
Lemon water fragrance
Liquid spray form
Scrub-free application
Non-toxic and bleach-free formulation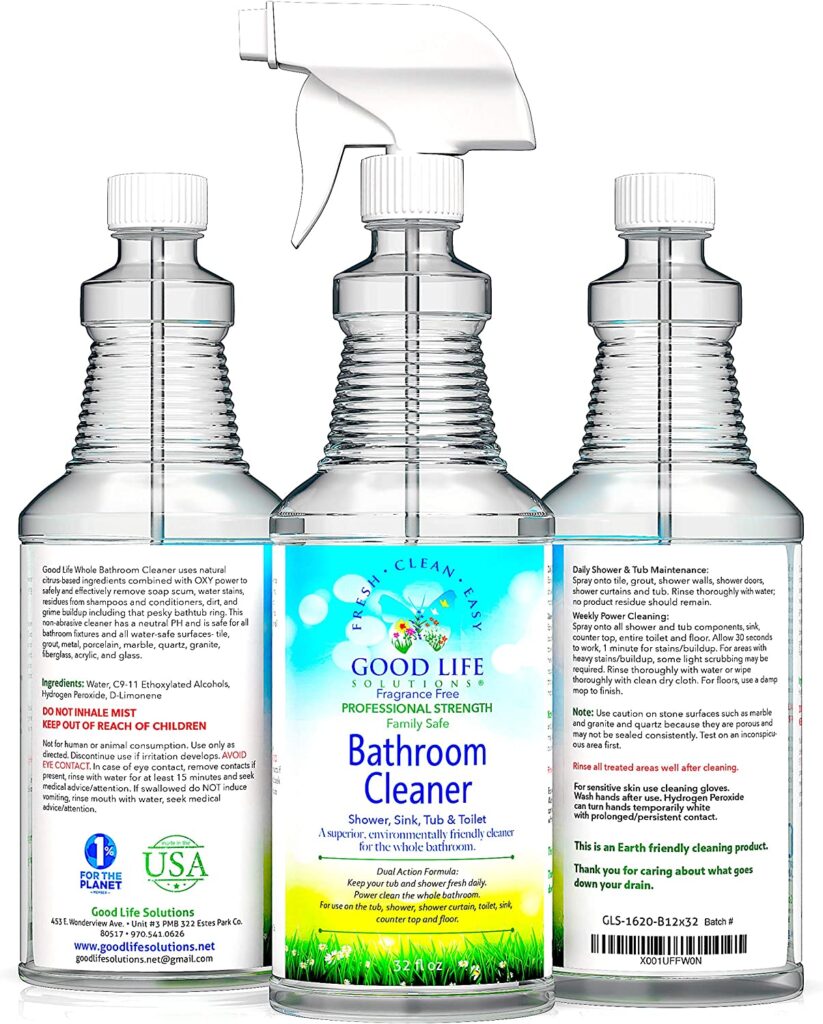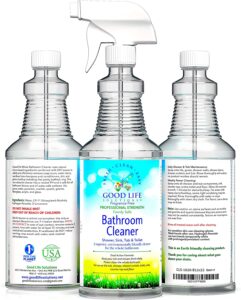 When it comes to homemade soap scum remover, Good Life Solutions may be the ideal choice as per the budget as well. It is made with a non-abrasive, pH-balanced, and plant-based cleaning formulation to effectively remove soap scum, dirt build-up, hard water stains, and mineral deposits from various kinds of surfaces.
Key Features
Applicable on floor, sink, toilet, wall, shower doors, tiles, countertops, and stones
Oxy-Citrus powered
Spray form
Scrub application
Non-abrasive, pH balanced, and plant-based formulation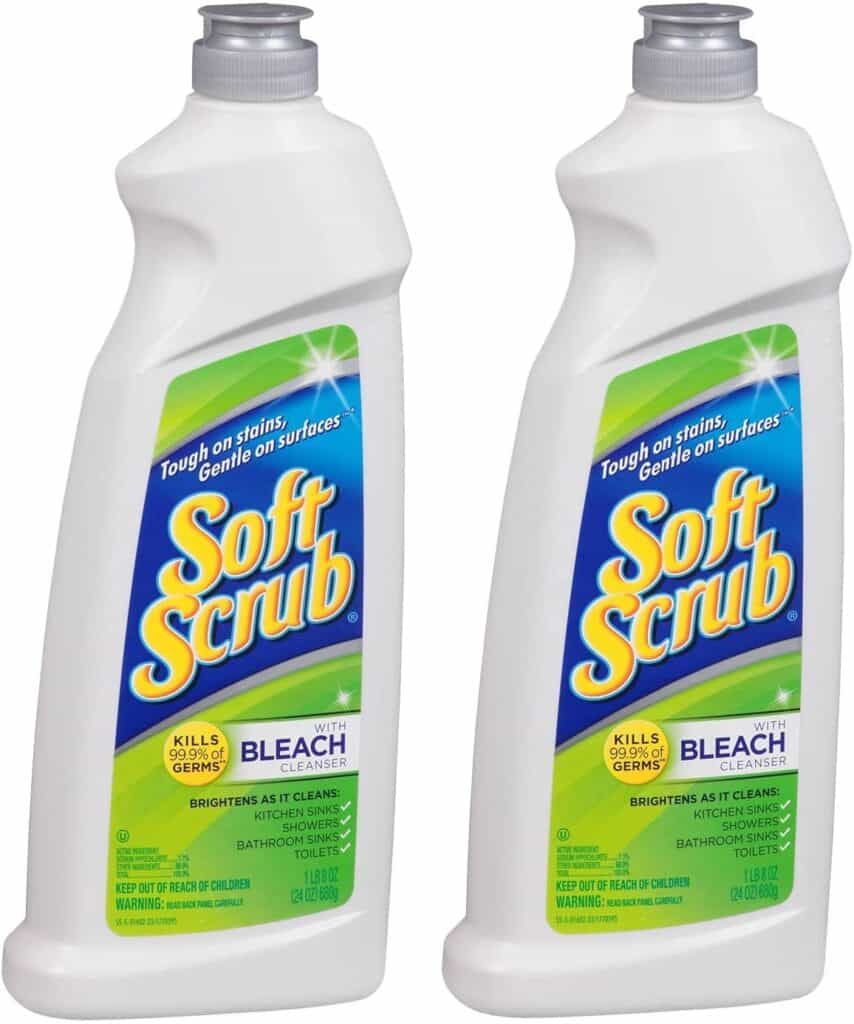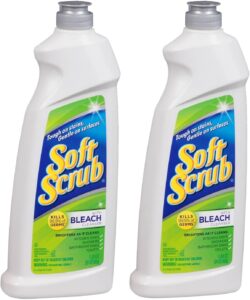 As the name suggests, it's a soft scrub application remover so that you can be left with a glossy, smooth surface. You will get a pack of 2 bottles from this brand and can apply it evenly over the tougher stains. Simply leave it for 3 minutes and you're good to go! This product exclusively contains calcium as an active ingredient to remove hard stains.
Key Features
Applicable on multiple surfaces like glazed tiles, tubs, sinks, shower doors, toilets, and countertops.
It comes with a bleach cleaner
Liquid form
Scrub application
Average clean processing time: 3 minutes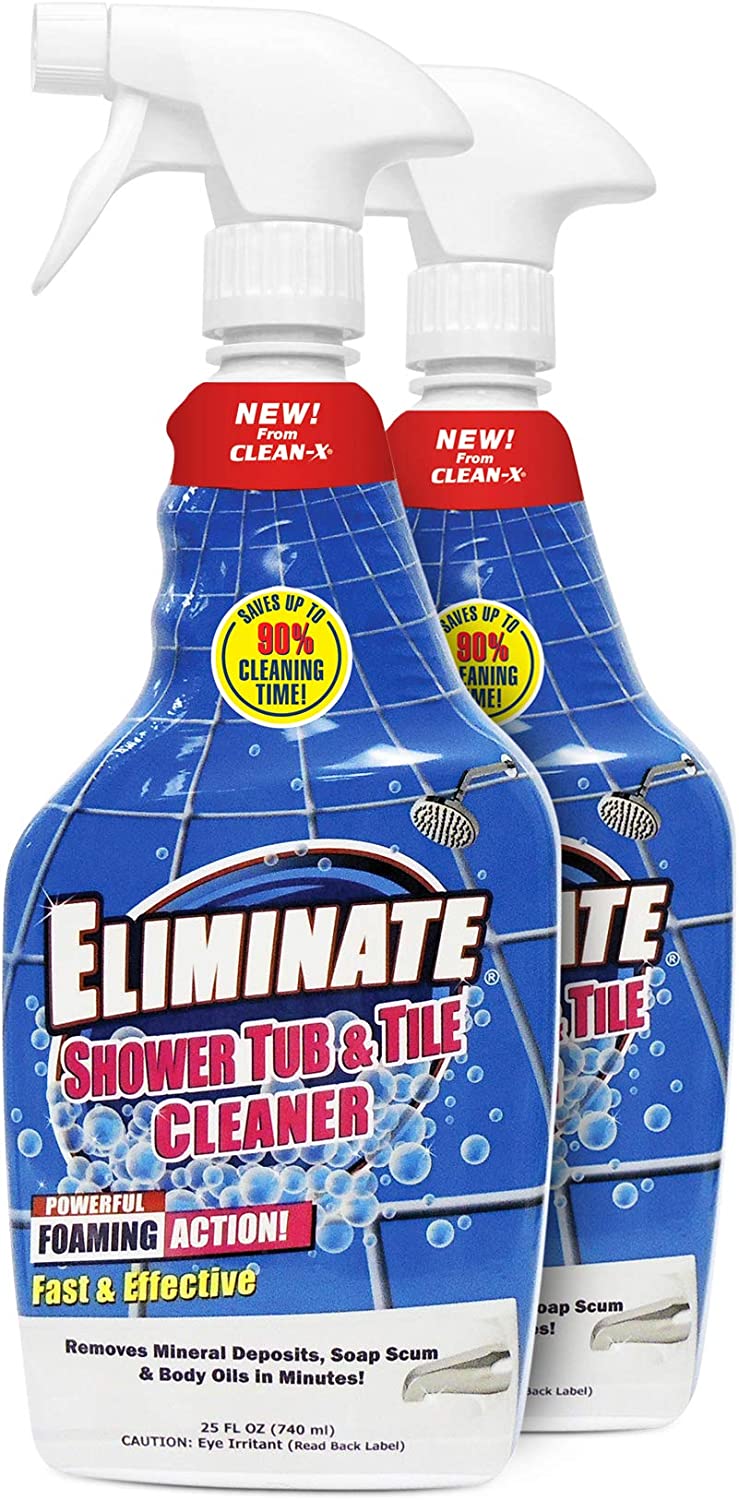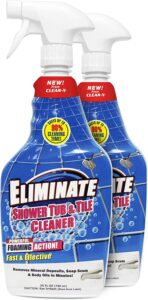 This is a metal faucet tile & tub cleaner by the brand Eliminate. It comes in a pack of 2 bottles with a sprayer fitted on the top. Also, you have the option to buy a pack of 3 from the supplier. Even though it's a scrubbing application, you need to scrub it gently over the affected area like porcelain, glass, steel, marble, and ceramic surfaces. Moreover, the product is built with a cherry-scented formula to eliminate any bad odors.
Key Features
Applicable on kitchen sinks, plexiglass, ceramic, fiberglass, stainless steel, shower doors, tiles, and glass surfaces
Spray form
It can also remove stubborn stains
Cherry scented cleaning formula
Eliminates various kinds of stains and dirt deposits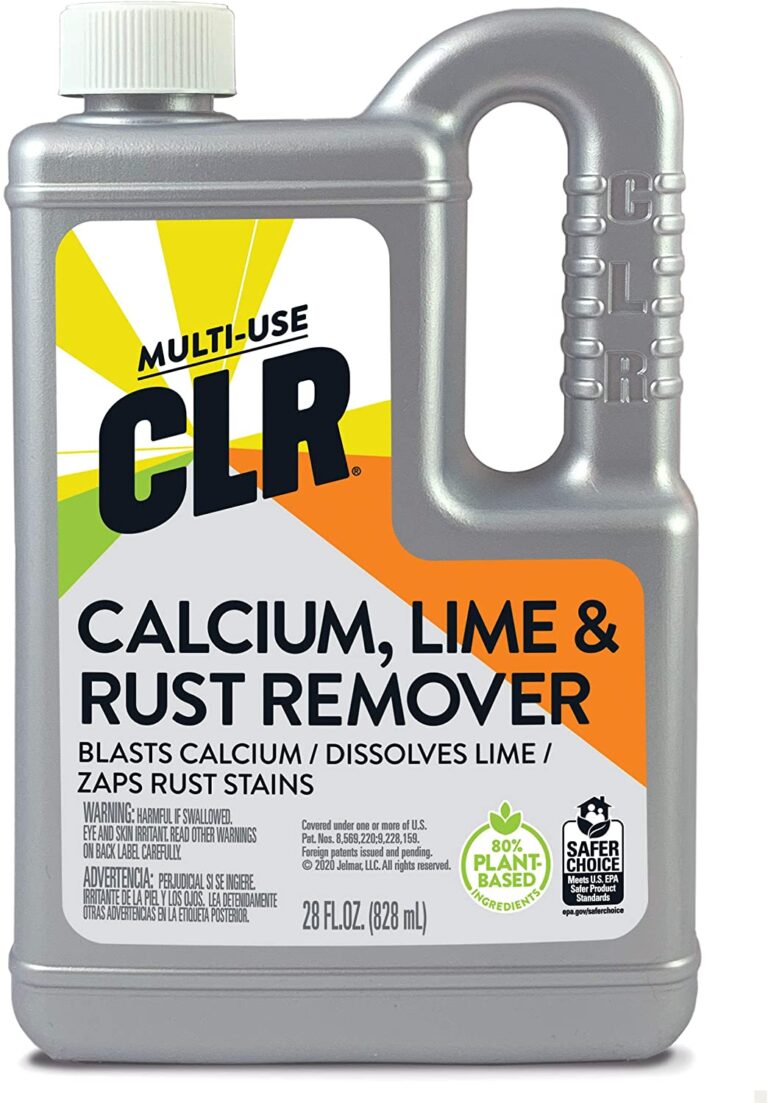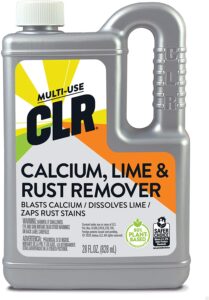 Let's move ahead with a heavy-duty soap scum remover that is not only effective for soap scum but can also remove rust, lime, and calcium from the surfaces! You can apply it over any kind of surface and even utensils if they are affected by the mentioned type of grime.
Key Features
Applicable on multipurpose kitchen-related & bathroom surfaces
Unscented
Liquid form
Scrub application
Patented lime, calcium, and rust remover

Just clean it on with the 'Bring it On' cleaner! This product is applicable on various kinds of surfaces including grout, tiles, bathtubs, shower doors, glass, windows, and more. This 32-ounce packaging is made to remove all stains for at least a quarter of a year. Furthermore, the fresh mint scent and the oxygen bleach technology just made it super safe to use among children as well.
Key Features
Applicable on shower doors, tiles, grouts, windows, fiberglass, chrome surface, and tubs
Mint scent fragrance
Cream form
Scrub application
Contains an innovative oxygen bleach cleaning solution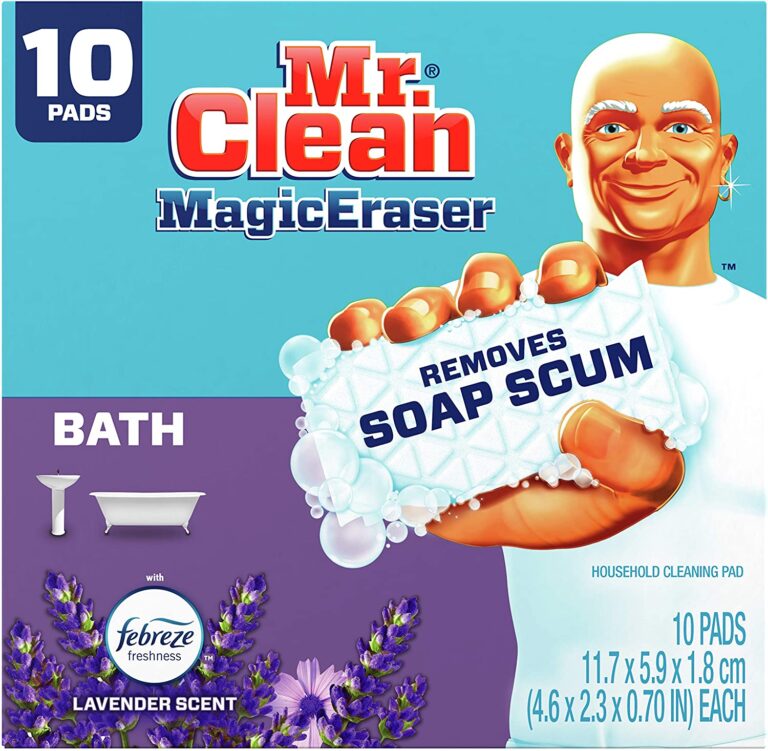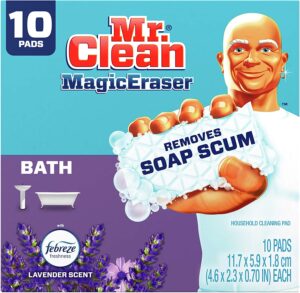 This product has been there in the industry for a long and is not at all heavily hyped by infomercials. This cleaning pad or scrubber is built with a Febreze lavender scent and has claimed to remove soap scum 3x times as easily as other products. The pack is, however, available in a lot of 10 cleaning pads and each one is designed with Duraform to remove even the toughest stains on the areas.
Key Features
Applicable on the kitchen, bathroom, and wall surfaces
Water-activated micro-scrubber
Built with dura form to eliminate all dirt
Spray and squeeze from the eraser
Lavender fragrance

Kaboom's 19oz Oxi-Clean remover is there to clean all your hard water stains, soap scum, and grime from the affected places. It follows a spray form procedure which is sprayed blue and turned white when it's ready to wipe from the surfaces. The product is 100% tough on grime and dirt without the requirement for any hard scrubbing.
Key Features
OxiClean technology
Citrus fragrance
Spray form
Applicable on kitchen & bathroom surfaces
Scrub-free application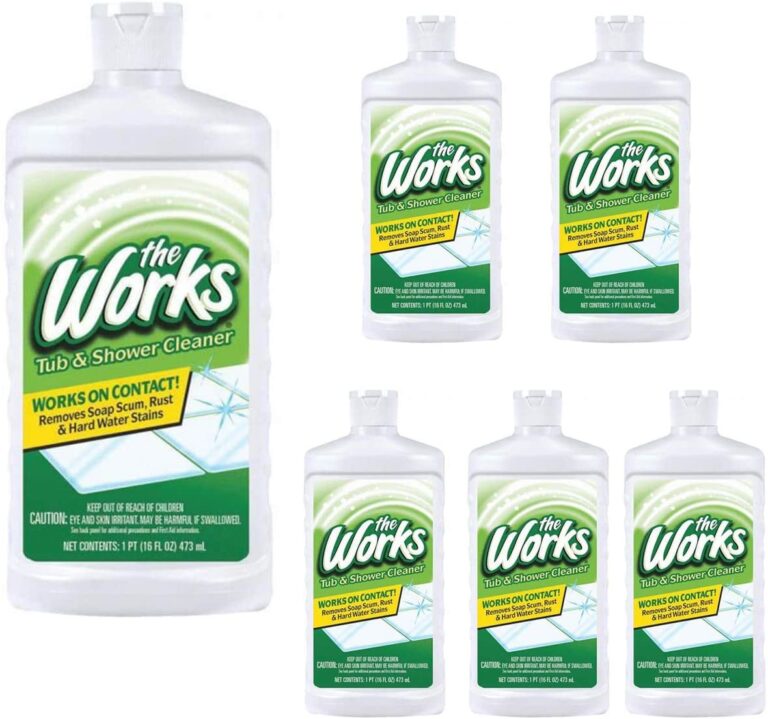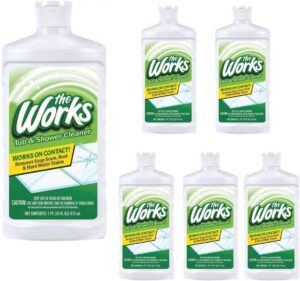 The Works ultimate tub and shower remover eliminates hard water stains from your tub, sink, or shower doors. It leaves your surfaces smooth and glossy with this powerful formula. Easily removes everyday soap scum, rust, and hard water stains.
Key Features
Applicable on bathtubs and shower doors
Liquid form
Scrub application
Unique cleaning formulation
Unscented
Note – Image Source: Amazon (For All Below Images)
Final Words
So, you can use among the 12 best soap scum removers whenever dirt or other build-up starts forming in your bathroom, kitchen, glass surfaces, shower doors, and other similar surfaces.
Nobody desires scum formation in their attractive bathrooms. You can tackle it by keeping your bathroom and shower clean, but sometimes, build-up happens anyway. While there are various methods to remove soap scum with natural remedies, sometimes you need a heavy-duty remover.
Related FAQs
Q – Can soap scum be permanent?
Ans – Yes, soap scum can become permanent if you haven't taken steps to take care of your bathroom or other affected areas beforehand. For instance, you should regularly follow the cleaning procedures and avoid getting deposits over the surfaces like shower doors, glasses, etc. However, you need to use a high-quality chemical soap scum cleaner to remove permanent tough stains of soap scum, if already deposited.
Q – How do you prevent soap scum in bathtubs?
Ans – To avoid or stop scum formation, switch to synthetic soap, liquid soap, or gel body soap. For this purpose, you can also sprinkle some Epsom Salts into your bath. The soap residue from the bath will go right down the drain and won't get stuck on your tub.
Q – What is the easiest way to remove soap scum?
Ans – The easiest way to remove soap scum is to use homemade soap scum removers or other non-toxic natural methods. Despite saving you on pockets, they prove to be highly effective methods when soap residues are not as permanent as already discussed.
Q – What does soap scum look like?
Ans – Soap scum (also called lime soap) is a chalky, white residue that appears as a gray or white filmy layer over the areas like showers, bathtubs, and sinks. Soap scum is made of calcium stearate and magnesium stearate, among other materials, mixed with hard water.
Q – Can soap scum turn black?
Ans – Yes, it's possible that you see it in black! However, it takes time for scum to build up and mix with other mineral deposits. The black, smelly, and green rings and spots on the shower stall are mildew and mold stains, which grow with the assistance of the bathroom's humid air.
Q – How to eliminate soap scum from the shower?
Ans – Since prevention is better than cure, you can do so easily! Just follow the basic steps of cleaning after a shower. You need to clean the bathroom just after a family member has had a shower. The hot, steamy environment will help loosen soap scum making it easier to clean surfaces in the bathroom.
Q – How to choose the best soap scum remover?
Ans – You can look for several buying factors as mentioned above to look for the best soap scum remover. As a reference, you need to check for the form, any scent in it, the application procedure & type, and the surface compatibility upon which it can be applied.